Your life can be transformed by a fresh set. Despite our love of professional manicures, sometimes we just need a quick fix at home. Painting our nails is more than a touch-up, it's an entirely therapeutic experience.
It's a frequent misperception that those with long nails are the only ones who can wear nail art and extravagant designs. However, you can still participate in the fun whether you prefer the simpler upkeep of short nails or you simply can't get your nails to grow any longer.
These 6 adorable short nail designs are the ideal way to test the newest trends while expressing your unique style. You'll look like you just walked out of Vogue, I assure you!
Beautiful Ideas for Short Nail Designs
Here we've piled up a list of stylish short nail designs:
Lilac Gloss Nails
Lilac Gloss is one of the lovely and short nail designs that has a base color of light purple or lilac with a glossy finish. For individuals who desire a discreet yet fashionable style, this short nail design is ideal. To get this amazing short nail design: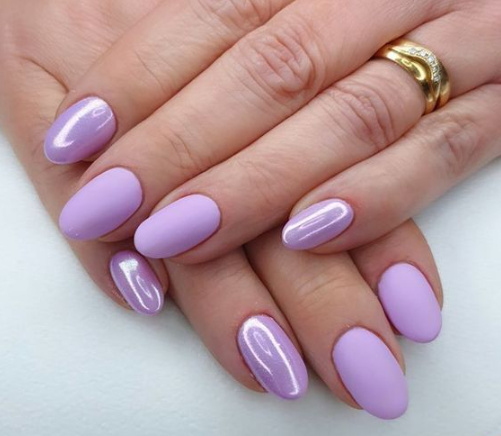 Prepare your nails first. To get the length and shape you want, file and shape them. Buff the nail's surface to get rid of any ridges or lumps.
To protect your nails and make the polish adhere better, apply a base layer.
Your nails should have two coats of lilac nail paint. Before applying the next layer, let the previous one completely dry.
Apply a glossy top coat once the nail paint has dried to give your nails a glossy appearance.
Use a tiny brush soaked in nail paint remover to remove any extra nail polish from the skin surrounding your nails.
Before engaging in any activity, let your nails dry.
Short Polka Dot Nails
Your natural, short nails will be transformed into the cutest, most appealing ones with this manicure! They will certainly adore this short nail design if you enjoy being dramatic and are totally in love with Dalmatians.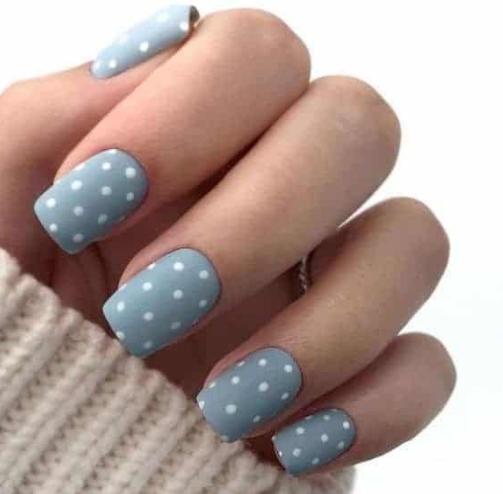 Apply a base coat to your nails to protect them and make your manicure last longer.
Choose your polka dot colors. You'll need a base color and a contrasting color for the dots. Black and white, pink and white, and blue and white are classic nail color combinations for polka-dot nails.
Paint your nails with the base color and let them dry completely.
Dip a small dotting tool into a contrasting color and create dots on your nails. You can make the dots uniform in size or vary the size for a more playful look.
Let your nails dry completely before adding a topcoat to protect your manicure and give it a glossy finish.
Clean up any mistakes around your nails with a small brush dipped in nail polish remover.
Modern Floral Nails
We frequently see flower nail art with a brighter color scheme because flowers never go out of style, so when we spotted this contemporary floral manicure art, we were intrigued. We adore the calm, understated hues and tints utilized in this lovely short nail design. This short nail design strikes the ideal balance between femininity and minimalism. The decision to reduce the flowers to a minimum and keep the base color nice and neutral is ideal!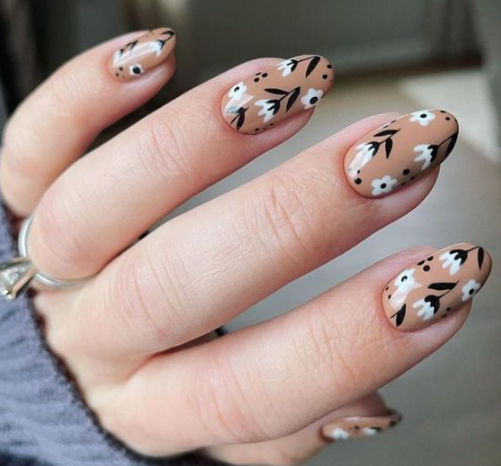 Prepare your nails by cleaning and filing them to your desired length and shape.
Give your nails a base coat and let them dry completely.
Make your design stand out by choosing a light or pastel color. Apply 2 coats of the base color and let it dry completely.
Using a fine-tip nail art brush, create floral designs on each nail using contrasting colors. You can use pink, purple, yellow, or green for flowers.
Create a more detailed look by adding small dots around the flowers once the floral designs are complete.
Seal in the design by applying a topcoat to give your nails a glossy finish.
Let your nails dry completely before doing any activities to avoid smudging or damaging the design.
ALSO READ: A Guide To The Hottest Nail Colors For 2023
Sweet Strawberries Nails
How could you not feel happier after seeing this manicure by nail technician Amber Green? The strawberries on some of the nails and the bright pink nail polish allude to a much sunnier, brighter day.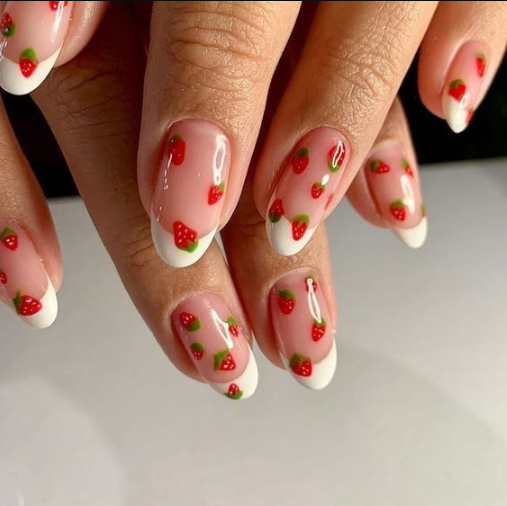 Start by applying a base coat to your nails and let them dry completely.
Paint your nails with red nail polish and let them dry completely. Apply a second coat if needed.
Take the green nail polish and paint a small leaf shape on one side of your nail near the base.
Use a dotting tool or toothpick dipped in white nail polish to create small dots on the red part of the nail to represent seeds.
Use the same tool or toothpick dipped in black nail polish to create a small dot on the top of the strawberry to represent the stem.
Candy Inspired Nails
This candy-inspired manicure design is for you if you enjoy quirky short nail art. You should choose this color combination to create a lively appearance. It is a highly bold and noticeable nail design that is ideal for people who struggle to make decisions and those who enjoy a wide variety of colors.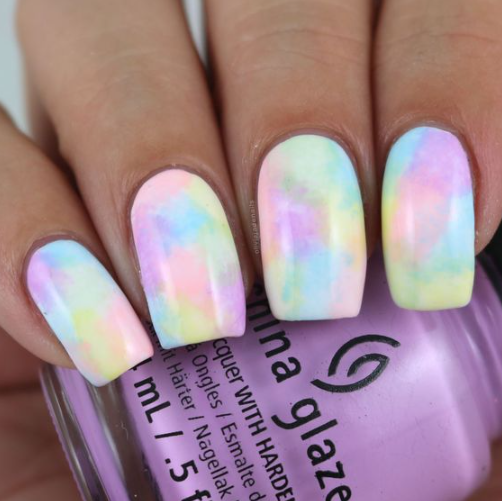 Start by selecting nail polish colors that remind you of candy, such as pastel shades of pink, purple, blue, green, yellow, and orange. You could also go for brighter, bolder shades, like neon pink or orange.
To add some sparkle to your Candy-inspired nails, try adding glitter nail polish in complementary shades or sprinkle some loose glitter over your base coat while it's still wet.
Use a thin nail art brush or striping tape to create vertical or horizontal stripes on your nails.
You can also add some cute candy-inspired embellishments, like mini candy canes, gummy bears, or lollipops.
To ensure your Candy-inspired short nail style lasts, be sure to apply a top coat to protect your nail polish and keep it looking shiny.
Green Tortoiseshell
Tortoiseshell tips are undoubtedly one of the most well-liked short nail designs, and given their classic appeal, they're certain to stay that way for a long time.
The typical dark brown and tan color scheme of the tortoiseshell was modified by nail artist Taylor Watson with a Kelly green backdrop.
Shape your nails with a file, rounding the edges slightly for a more natural look.
To ensure a smooth finish, apply a base coat.
Put on green nail polish with a tortoiseshell effect. You can find polishes specifically designed for this effect or create your own by layering different shades of green.
Apply the first coat of nail polish, starting at the base of your nails and working to the tips. Let this coat dry completely before applying a second coat.
For the tortoiseshell effect, use a thin brush or toothpick to create irregular lines and shapes of a darker shade of green or brown. You can also add small dots or speckles for a more realistic effect.
UP NEXT: 7 Trendy Pink Nail Design Ideas That Look Stunning
Conclusion
Short nails have always been a timeless design that is always in vogue. However, you may transform your short nails from plain to dazzling with the appropriate nail art. Accepting your short nails and experimenting with different looks can help you find the ideal appearance that will make you feel attractive and confident every day.