Consider black nails if you're searching for a new nail design or inventive new nail ideas for this season. When you think of black nails, you may envision black nail polish, but black manicures can be so much more.
Due to the recent popularity of black nails and black manicure designs, now is an excellent time to break out your black nail polish and experiment with black nail ideas. The greatest aspect of black nail polish is that it is neutral, so it complements any outfit.
Additionally, black nail polish can be styled in a variety of ways, allowing you to discover your ideal manicure.
Unique Ways To Style Black Nails
Following are some of the unique ways to style black nails:
Ombre Black Sparkly Nails
If you want your nails to look cute but don't have time to go to the salon often, try this black-and-glitter ombré pattern. With this black glitter nail pattern, re-growth will be almost impossible to see. To get this look, soak a makeup brush in Essie's Licorice or another black nail polish.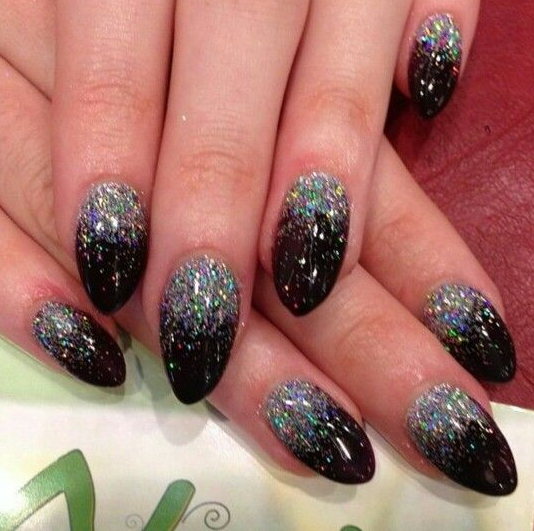 Start at the free edge (the tip) and dab the color onto the nail, making it smaller as you move toward the middle. Once the desired level of clarity has been reached, add a clear topcoat. Sprinkle silver glitter on the nail while it's still wet, and then add a second top coat to finish the look.
Pretty Matte
We would suggest going for a matte black finish on your nails if you are interested in a more straightforward all-black manicure appearance but also want longer nails. If you want an almond or stiletto nail shape, which looks wonderful on these nails, then you should give this easy nail concept a shot if that is the manicure shape you are going for. You can tone down the intensity of the normally high-shine polish by applying a matte finish to your nails. This will give your outfit an appearance of luxury.
Black Marbled Nails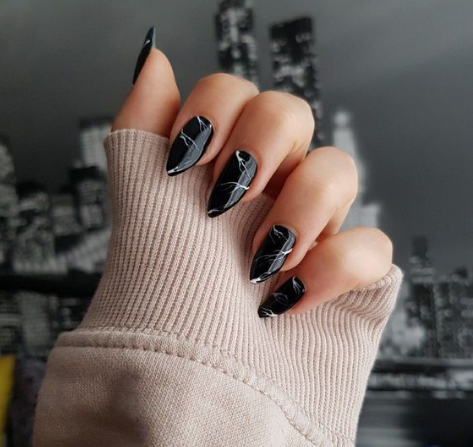 Marble nails are a terrific go-to manicure design, and you can get them using black nail paint as well. Marble nails are always a great option. Using different shades of black and white nail paint, you can create a marbled manicure that will make a wonderfully elegant statement. In my opinion, garments with a vintage or retro aesthetic would complement this look perfectly. If you want something a little more interesting on your nails, switch up the white polish with something else!
Black French With Metallic Charm
Always accept metallic charm when the opportunity arises. They lend an air of luxury to even the most basic manicure. To achieve this look, the artist began by applying nail adhesive and a thick top polish to flat black charms.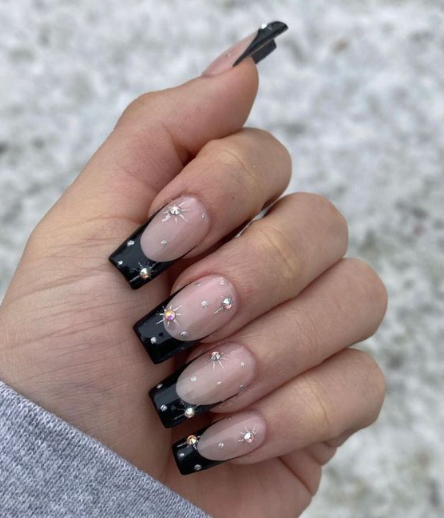 The manicurist advises that once your French manicure is completely dry, you should apply a drop of nail glue where you want the charm to adhere and then position each charm on the nail one by one, using tweezers, until you achieve the desired look. After the adhesive has cured, apply a thick topcoat to conclude the transaction.
Black Flame Nails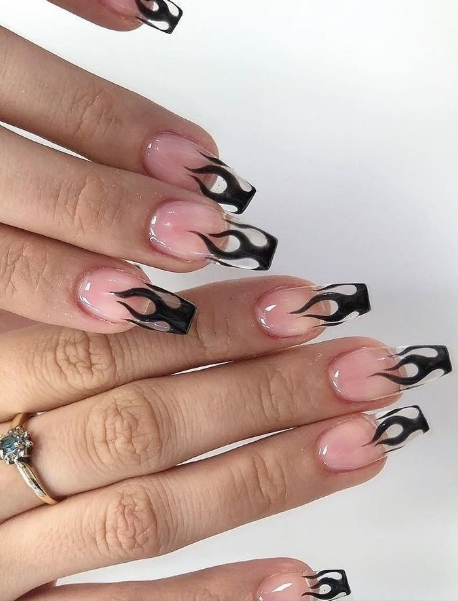 This relatively recent nail trend has become extremely popular! Moreover, it is one of our favorite black nail designs. It consists of black French nails with flaming ends. And if the flames appear too intricate for you to create on your own, you can purchase press-on nails that will make your life much simpler.
Black Studs and Spikes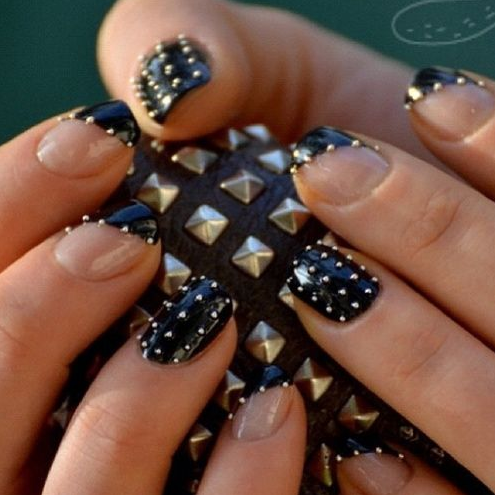 The addition of texture will take the design you've chosen for your black nail art to the next level. This style harkens back to the glitz and glamour of the '90s, and we adore the way it captures the light from every direction. This pattern can be produced by applying a top coat, which serves the purpose of securing the facetted studs that were applied by hand earlier in the process.
UP NEXT: The Ultimate Guide To The Hottest Nail Colors For 2023
Conclusion
You can style your black nails in various styles. We've discussed the most creative and trendy ideas to style black nails. Tell us which design you like the most below in the comment section. We love to hear from you.