The Metropolitan Museum of Art says that Karl Lagerfeld didn't like the idea of his work being shown in museums. So it's a good thing that the Costume Institute's annual show, which this year honors the late German designer, always starts with a big party where his designs, remakes of his designs, and references to his designs can all be seen in action on stunningly beautiful people.
All of the guests at the Met Gala on Monday evening paid memorable tributes to Lagerfeld. The vast majority of guests wore black and white, Lagerfeld's preferred color scheme, and there were plenty of tweeds, pearls, chains, and camellias — all Chanel signatures that Lagerfeld designed from 1983 until his passing in 2019.
Amazing 2023 Met Gala Styles
Following are some of the hot 2023 met gala styles:
Chloe Fineman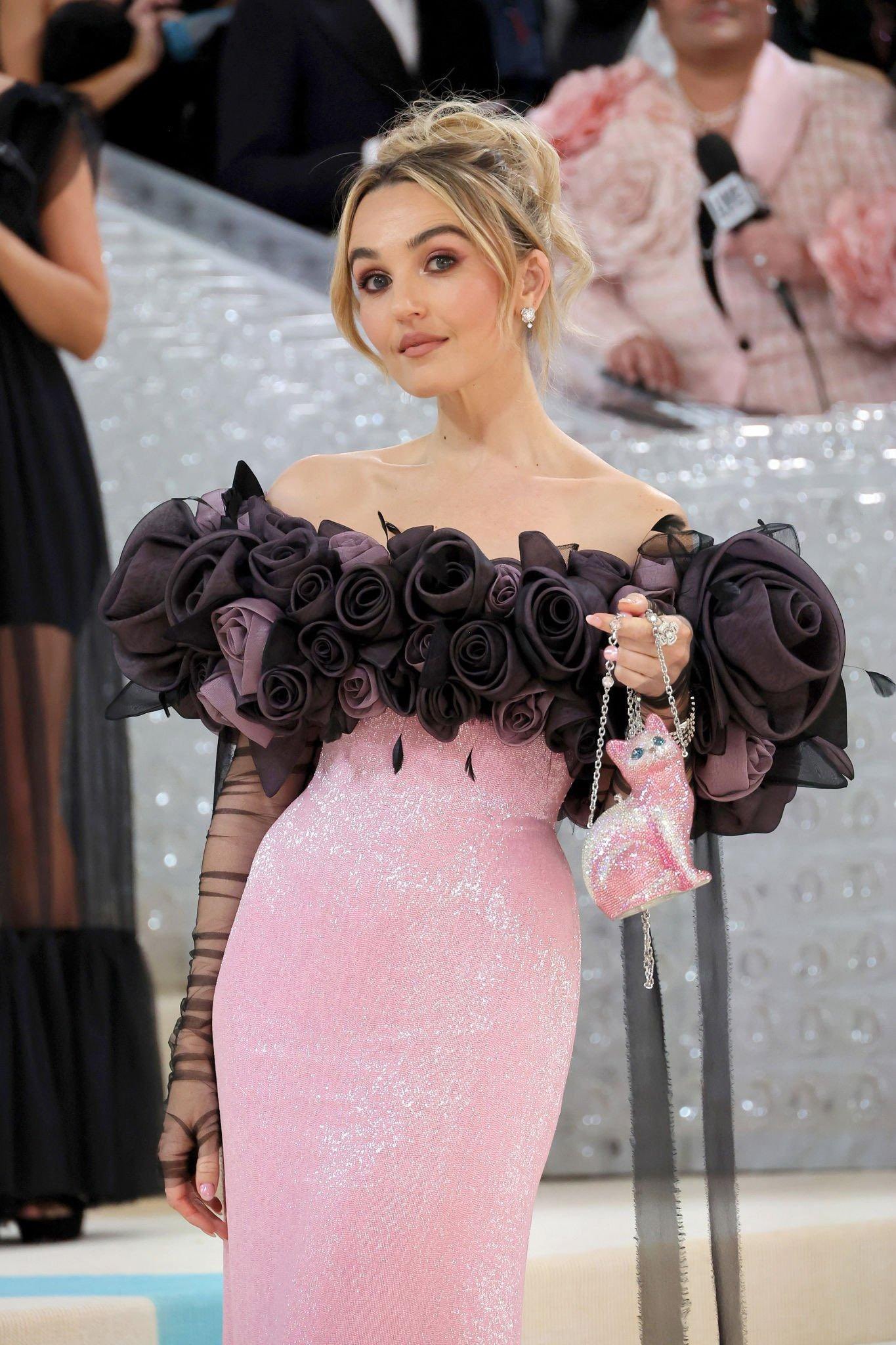 Chloe Fineman, On the 2023 met gala Fineman paired her pink sheath Wiederhoeft gown, which featured a garland of dark-purple rosettes across her shoulders, with a dazzling pink cat-shaped handbag. She was a cast member on "Saturday Night Live," and she made sure that a red carpet without Choupette didn't have to mean an altogether kitty-free event.
Michaela Coel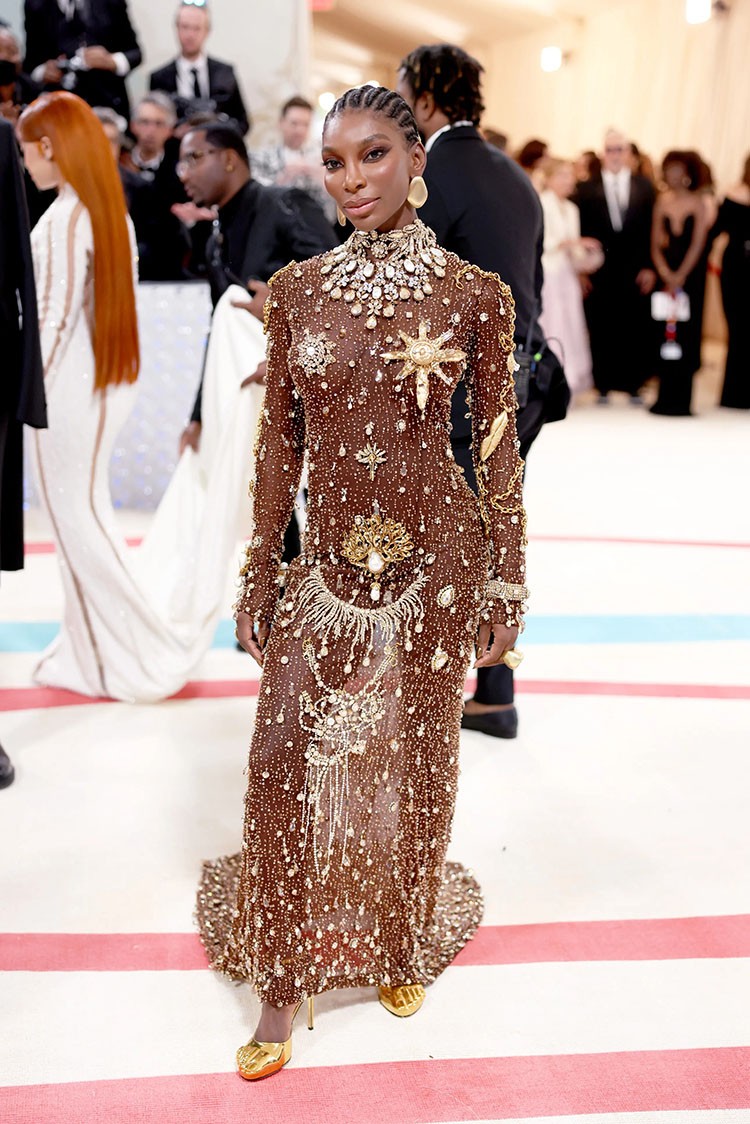 The second-skin Schiaparelli Haute Couture gown that the gala co-chair wore was a genuine work of art. It was fashioned from sheer tulle, embellished with golden crystals, and sprinkled with one-of-a-kind decorations that were inspired by Lagerfeld's inventions of costume jewelry.
Doja Cat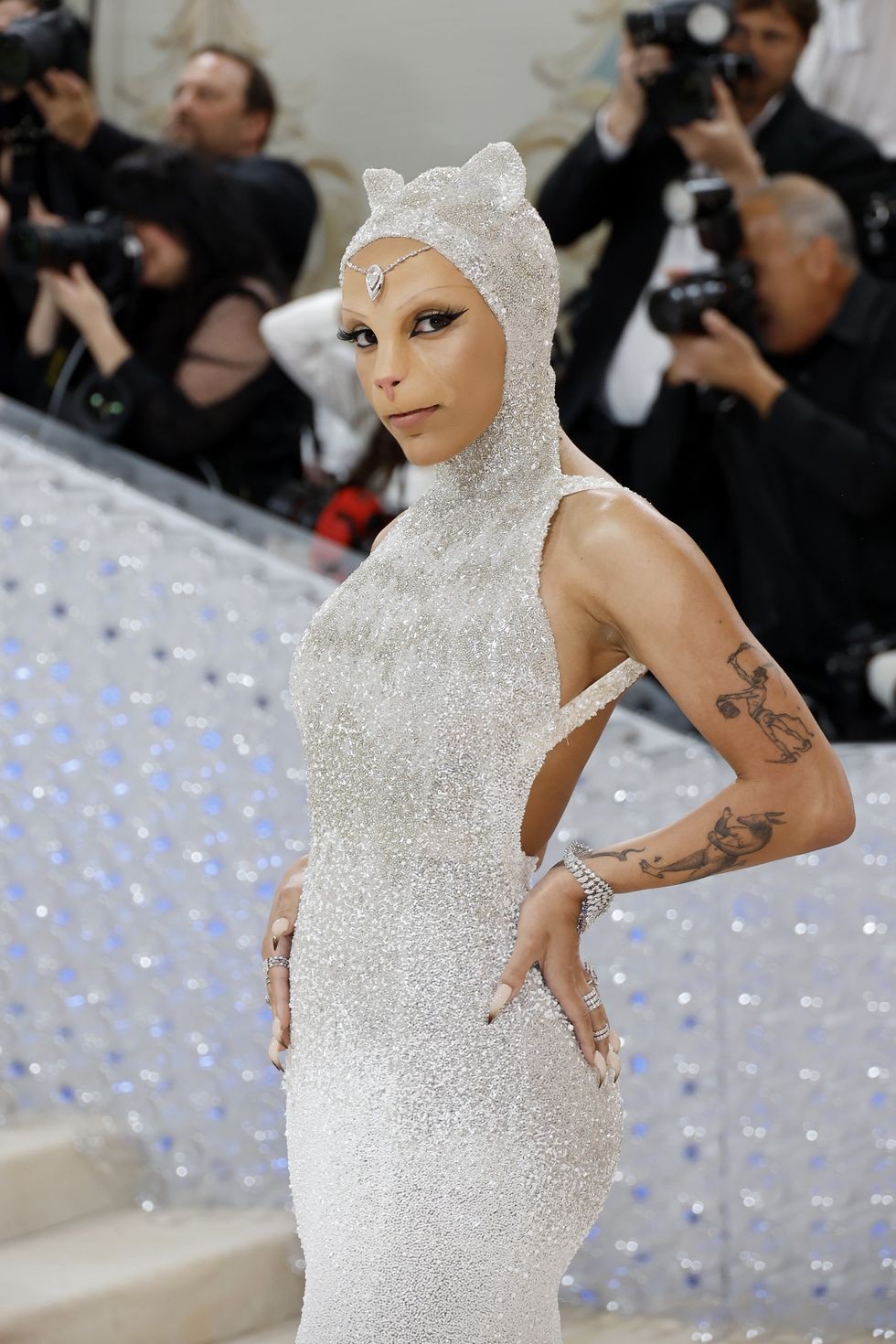 Doja Cat, whose red-carpet outfit usually borders on performance art, may have been the only truly successful costumer. To depict Lagerfeld's adored cat Choupette, she wore a hooded cap with ears, face prosthetics, and a handmade Oscar de la Renta outfit fashioned of 350,000 silver-and-white bugle beads. The gown took over 5,000 hours to make; now that's dedication. (Jared Leto took a less artistic approach, donning a fluffy catsuit reminiscent of those worn by street performers in Times Square.)
Rihanna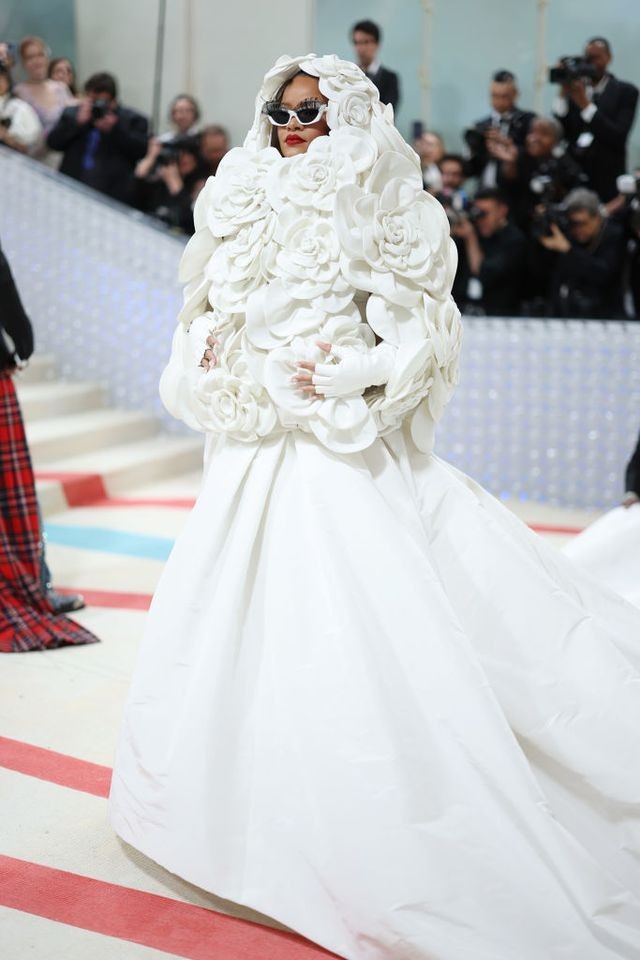 Long considered the monarch of the 2023 Met Gala, Rihanna put on a show as she removed her cape to reveal a stunning white gown with a camellia design on the bodice, spaghetti straps, and a full skirt.
According to a tweet from Valentino, Rihanna's silk faille gown had a 16-foot-long train, and the silk faille cape was "designed especially for her" by creative director Pierpaolo Piccioli with 30 camellias, 500 petals, and 25 leaves.
Also Read: Kim Kardashian's Show-Stopping Look at Met Gala 2023
Janelle Monae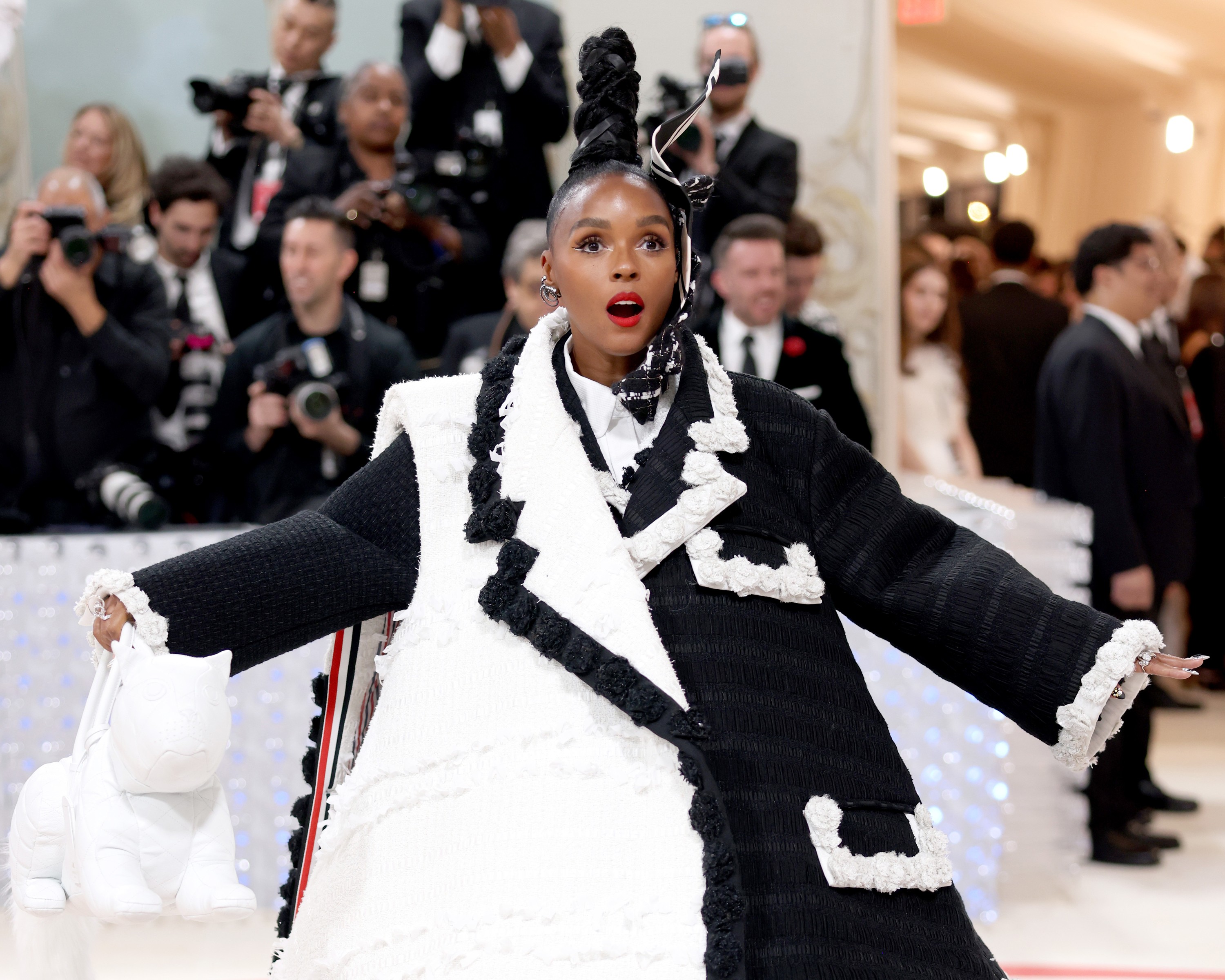 The actress from "Glass Onion" is one of the few celebrities who can successfully pull off a spectacular fashion moment. At this year's Met Gala, Janelle Monáe performed a high-fashion striptease. She appeared on the red carpet wearing a black-and-white Thom Browne coat before ripping off her outerwear to reveal a sheer conical wireframe gown atop a black sequined, pearl-studded bikini. Monáe's outfit was a combination of two separate pieces.
Naomi Campbell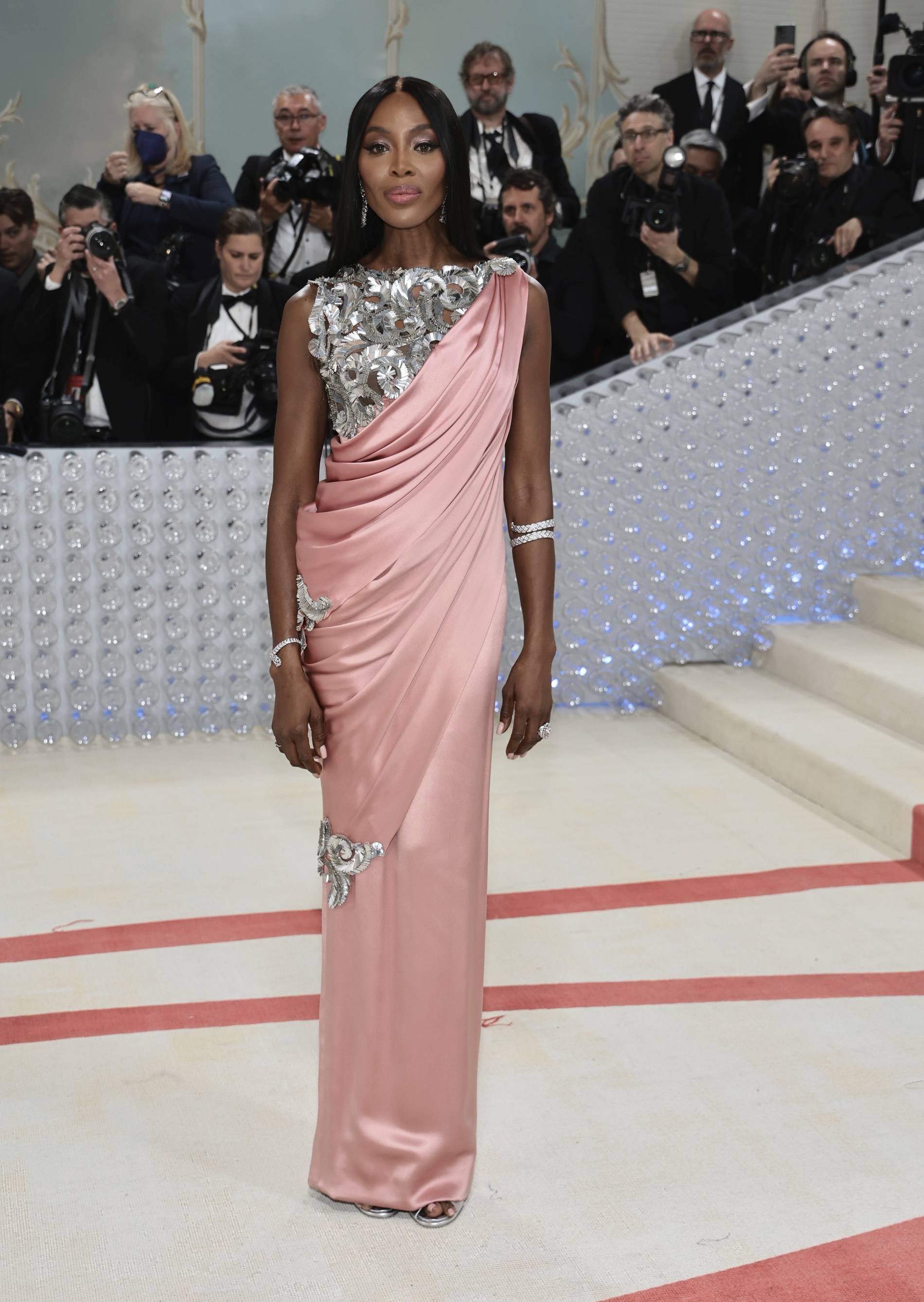 According to Emily Yahr of The Washington Post, the hosts of E!'s red-carpet show nearly lost their minds when supermodel Naomi Campbell came in an asymmetrical pink 2010 Chanel couture gown with silver sequin and glass bead embroidery. The dress was worn by Campbell at the Academy Awards.
Gisele Bundenchen
The Brazilian beauty stunned in a translucent white dress highlighted with vertical stripes of sequins and coupled with a sweeping feathered cape from the spring/summer 2007 Chanel Haute Couture show in 2023 met gala. She attended the event on her own for the first time since 2006, and it was also the first time after her divorce from Tom Brady.
Jennifer Lopez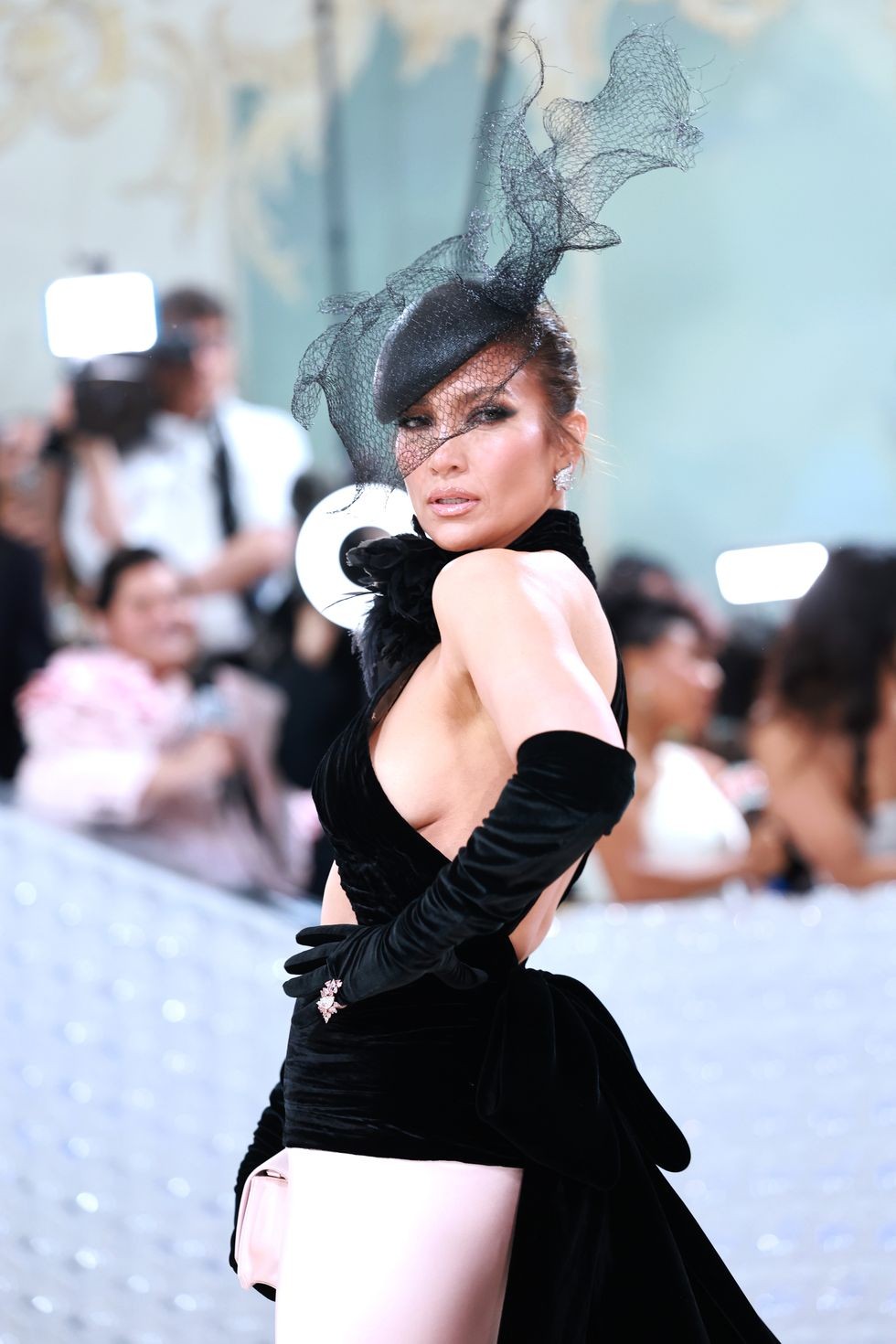 Jennifer Lopez's handmade Ralph Lauren gown had a daring cutaway on the bodice, and its feathery halter neckline was joined to the skirt by two fabric parts. The black train of the gown contrasted with the light-pink skirt. A black headpiece with a wispy structural element completed the look. In addition, the actress walked the red carpet with two dramatic black cloth tails trailing behind her.
Also Read: Look at the Stunning Debut of Alia Bhatt at the Met Gala 2023
Jessica Chastain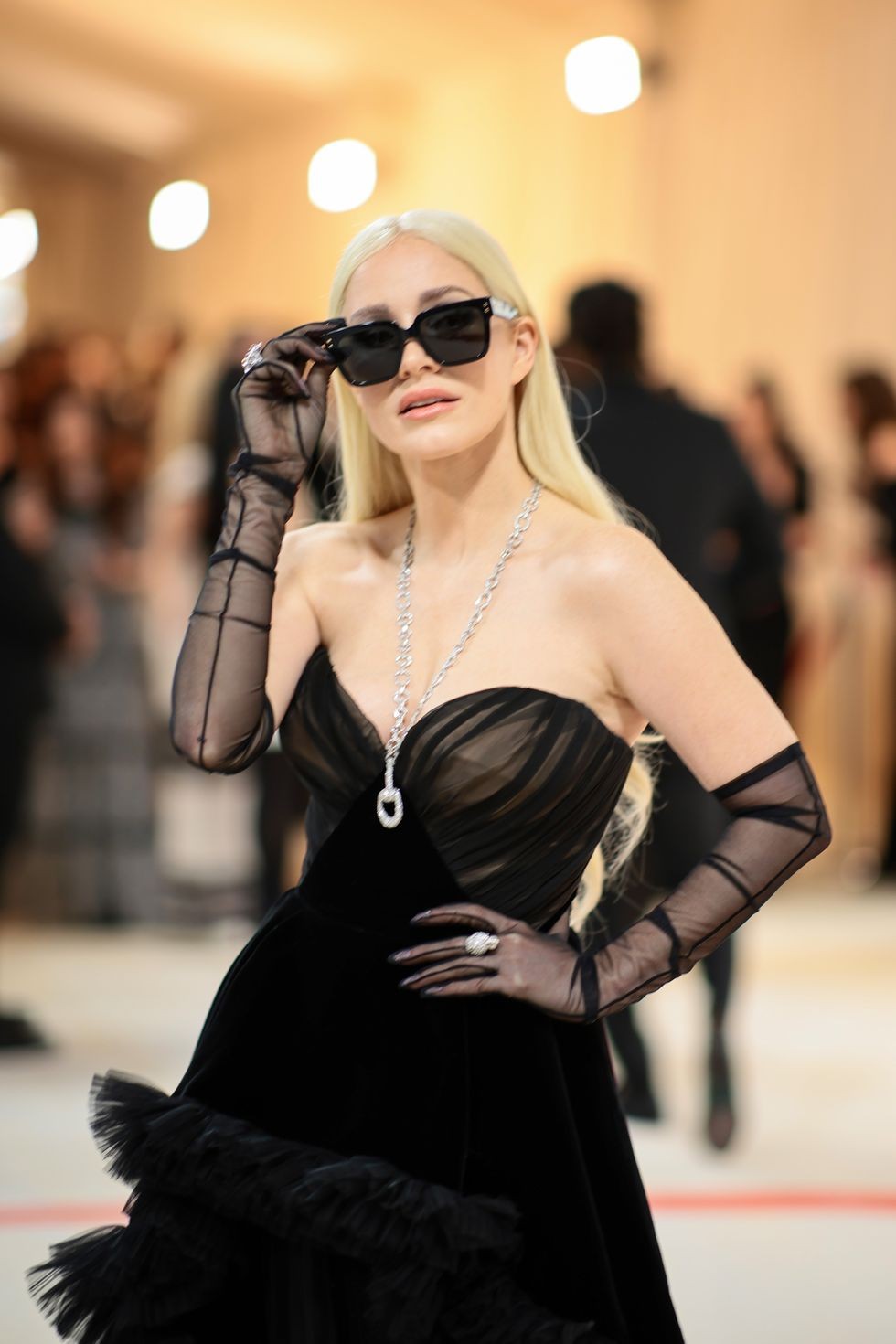 Karl Lagerfeld's public-facing appearance included a pair of black sunglasses, black gloves, and a shock of white hair, all of which Jessica Chastain incorporated into her getup to mimic Lagerfeld.
Nicole Kidman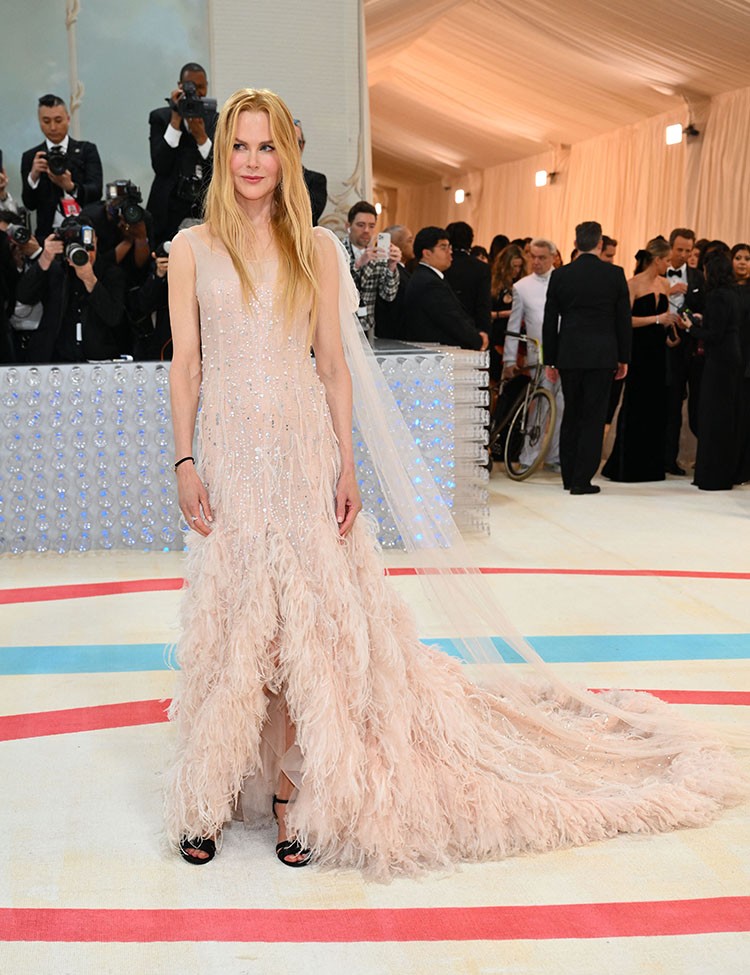 Kidman, like Bündchen, chose to revisit an old favored look from the Chanel archives for the Met Gala on Monday, bringing back the pink silk tulle gown she wore in the 2004 Chanel No. 5 commercial. The exquisite haute couture design is adorned with more than 3,000 silver crystals and rhinestones and 250 pink feathers.
Jared Leto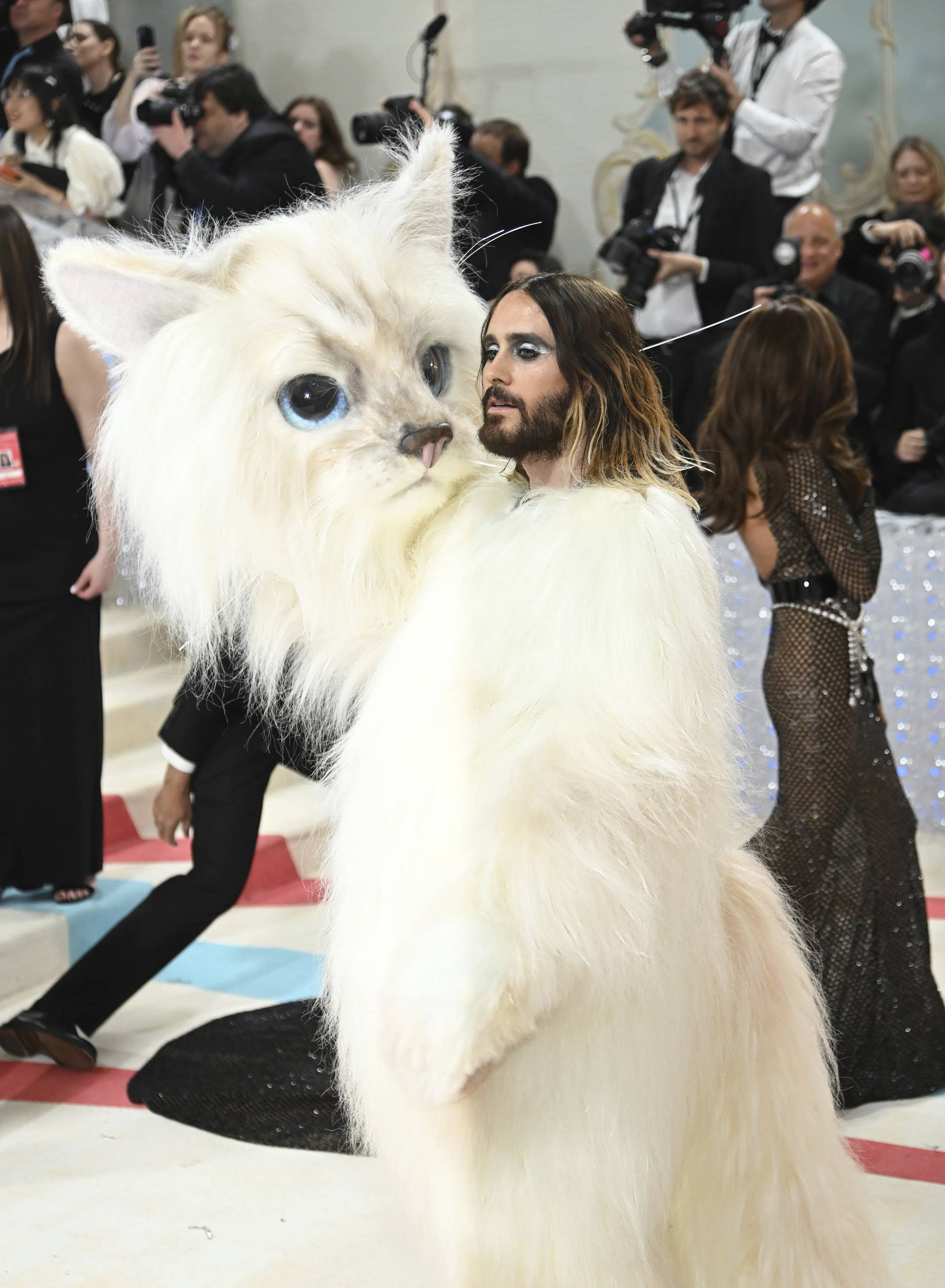 As tributes to Choupette reached their logical conclusion, Jared Leto dressed up as the iconic Birman cat, complete with blue eyes and a cream-colored coat, and wore a costume resembling a mascot outfit for a cat. Leto hurried off the red carpet in his second getup, which was all black and featured a beaded collar that gleamed. After removing his headpiece, Leto began his exit. One must, however, assume that the first will be the one remembered.
Dua Lipa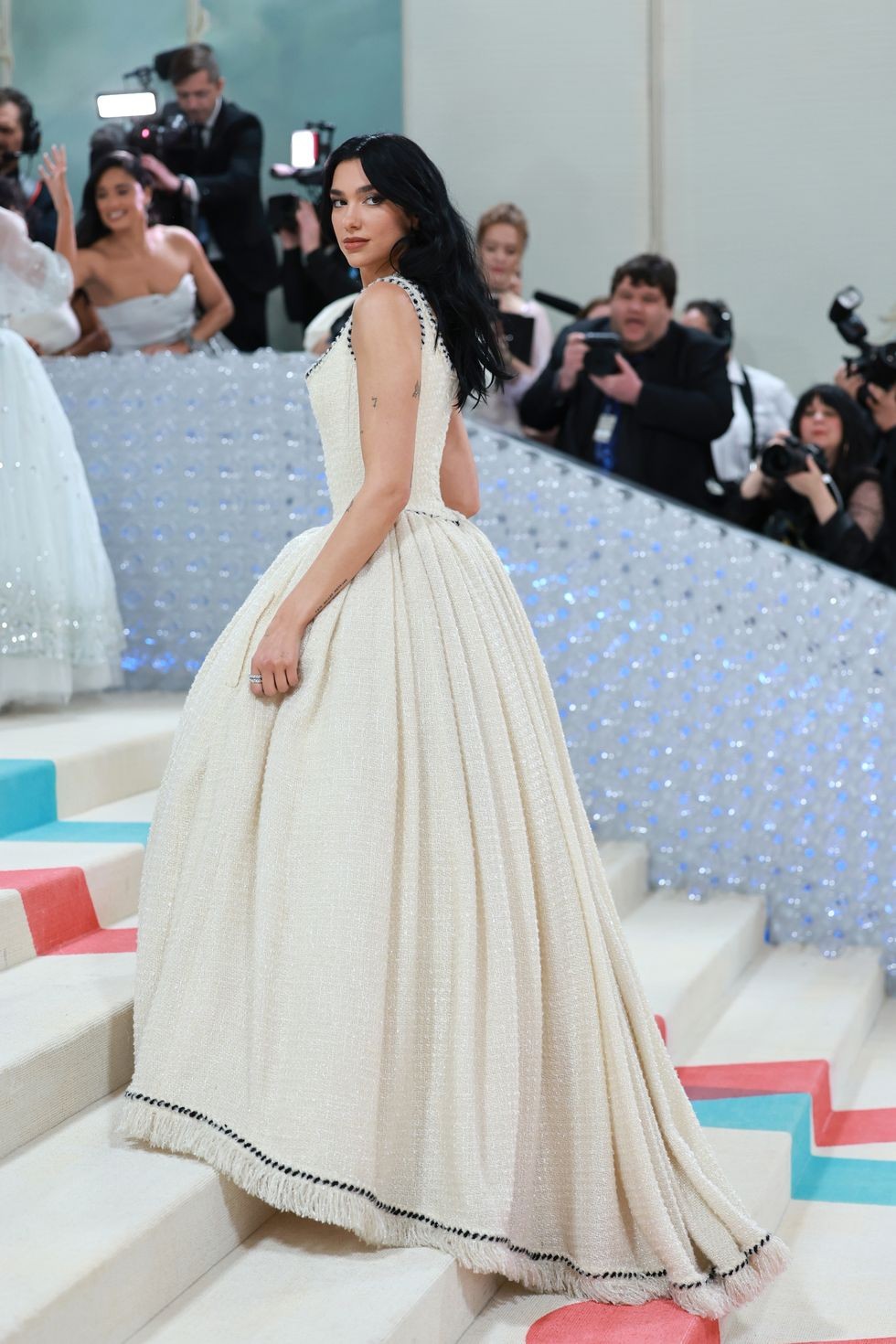 Dua Lipa's stunning look! Hotter than the blazes of hell! The co-chair of the gala drew attention to herself by wearing a tweed Chanel Haute Couture ballgown from the year 1992. However, it was the necklace from Tiffany & Co. that truly stole the show because it was set with over a 100-carat diamond that was cut in the same cushion-shaped shape as the famous yellow Tiffany Diamond.
Alexa Chung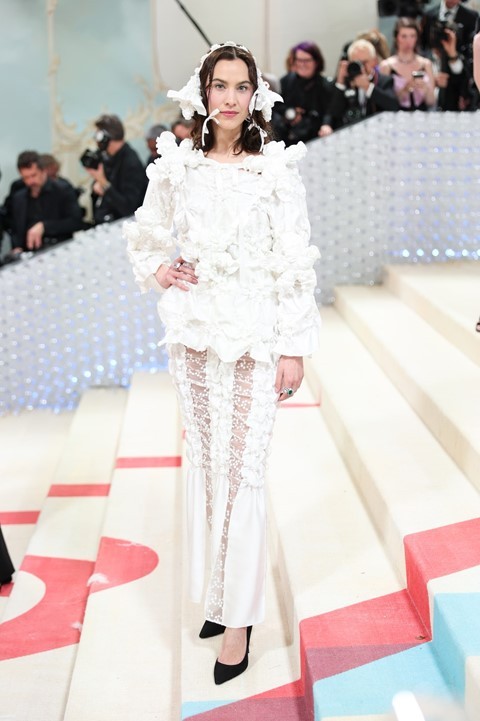 Alexa Chung wore a frothy gown by Dublin-based designer Róisn Pierce that openly resembled the ceremonial robes worn by unwed mothers — often known as "fallen women" — at Ireland's Magdalene asylums. There were many brides on the red carpet, but Chung's outfit questions the idea of what a wedding gown should look like and who can wear it.
Cardi B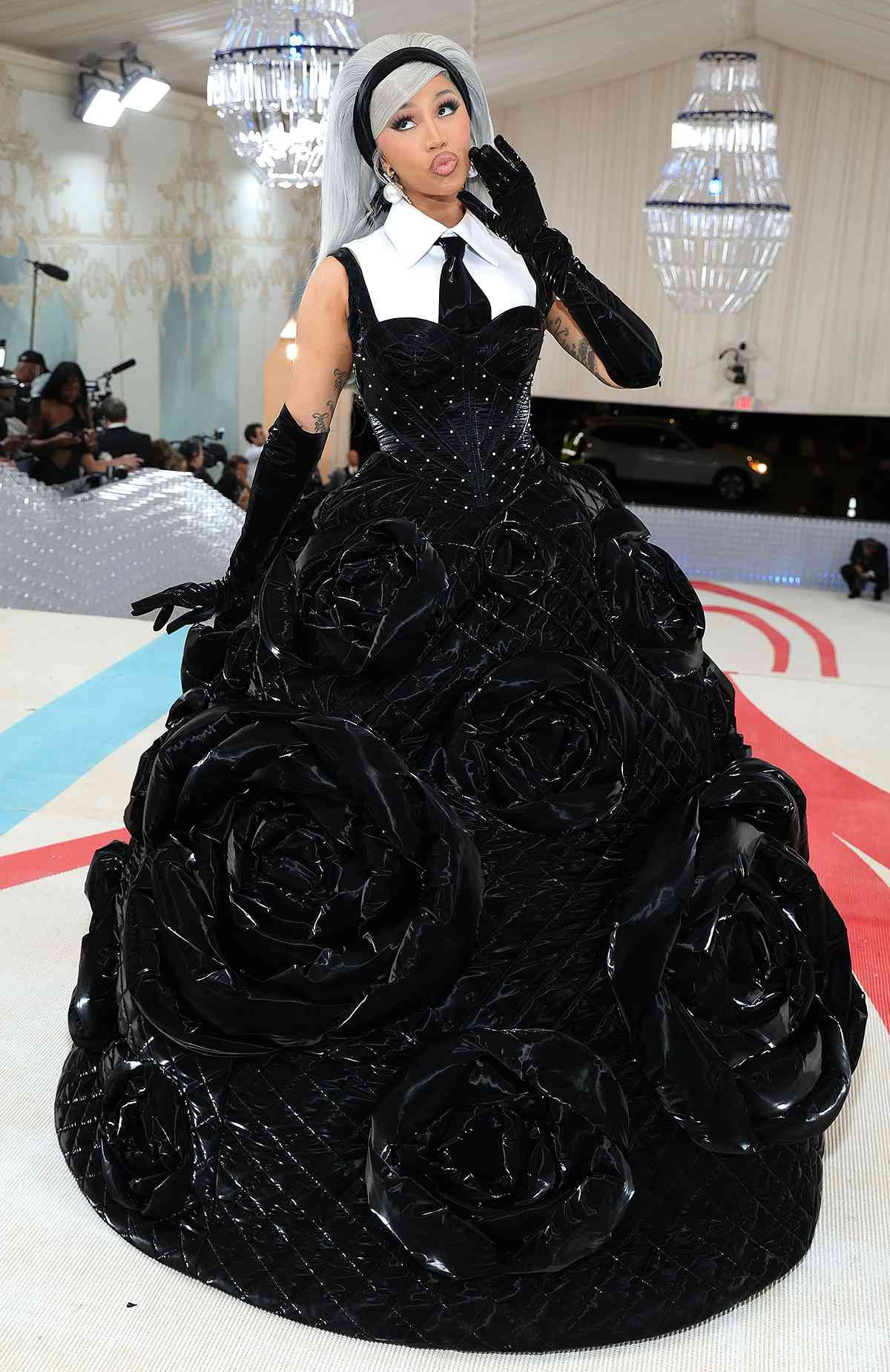 The rapper's Chenpeng Studio gown referred to the numerous black suits worn by Lagerfeld.
The bodice of the dress resembled a blouse with a tie and was paired with a crystal-embellished bustier for added glitz. The bottom of the garment was constructed as a heavy ballgown and featured enormous black rosettes.
Margot Robbie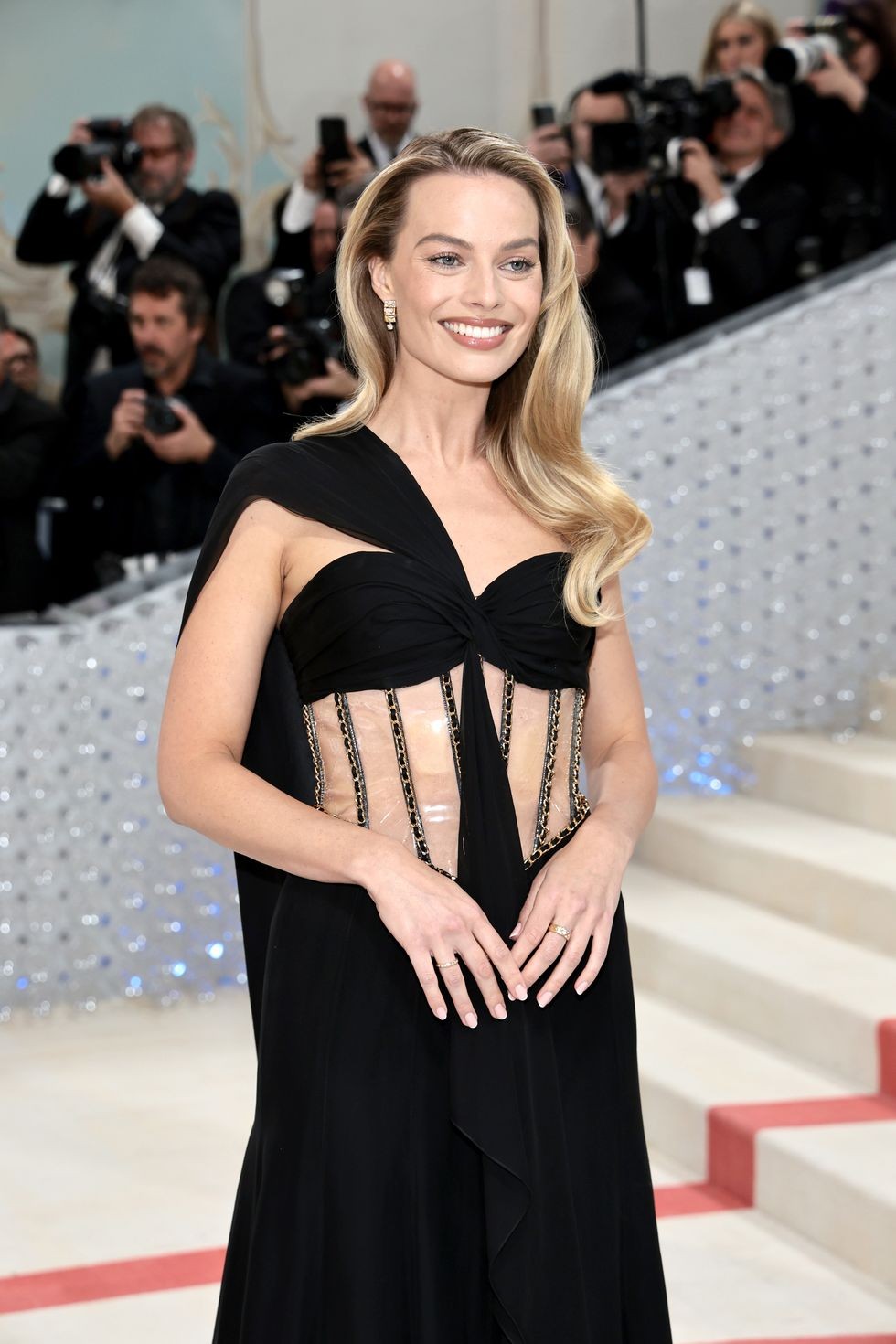 Robbie, who has recently been promoting her next film "Barbie," donned a black 1993 Chanel gown with an open stomach, according to Maura Judkis of The Post's live coverage: Robbie wore a black 1993 Chanel gown with an open midriff. This column gown has a hint of sophistication thanks to the PVC and chain-boned corset.
Jeremy Pope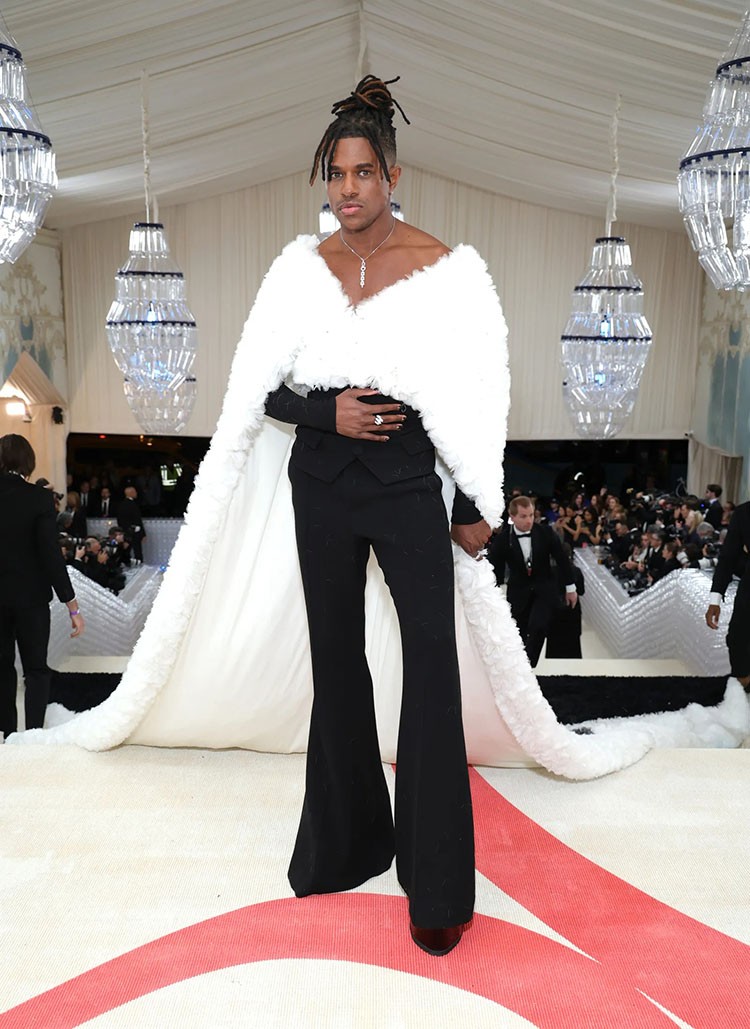 Jeremy Pope, an actor, and singer who was nominated for a Tony Award and who also received the award, paid tribute to Karl Lagerfeld by donning a dramatic 30-foot train that was designed by Balmain.

Conclusion
The 2023 met gala paid tribute to the late fashion designer Karl Lagerfeld, and his subtle and apparent influence was evident on the red carpet. So many people are inspired by all the celebrities' outfits worn at Met Gala. We hope our blog will be helpful to you.
UP NEXT: Jenna Ortega Rocks A Wednesday-Inspired Look At Met Gala 2023