Our current obsession with leather is no exception, and nothing says fierce like leather pants. There should be a stylish pair in every woman's wardrobe since they can be worn for a variety of occasions. The problem is that maybe there is a pair that you refuse to wear because you aren't sure how to wear them. Alternatively, you may not possess any at all (gasp!).
Regardless of your reason, we have a list of leather pants ideas for every occasion! Here, you'll find all the inspiration you need to turn heads with a chic and confident look.
Amazing Leather Pants Outfit Ideas
Following is a complete list of chic leather pants outfit ideas:
Sweatshirt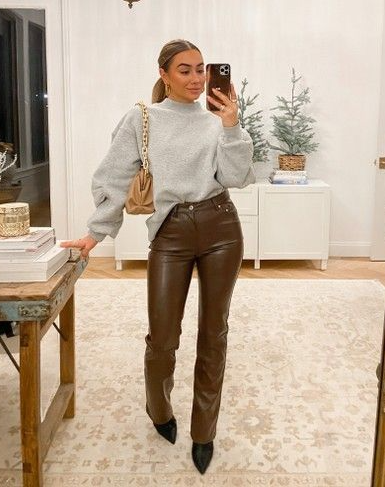 Although leather leggings and a hoodie may seem like an odd match, they work well together and are comfy. The best approach to wearing the two is to pair black leather pants with a variety of white, beige, grey, and other neutral-colored sweatshirts.
Consider tucking your sweatshirt in at the front or giving it an illusion of being cropped to squeeze your waist to give the outfit some structure. This will make your physique more defined and give you a more put-together appearance. In terms of comfort and coverage, this combination also makes for a fantastic leather pants winter ensemble!
Trench Coat & Top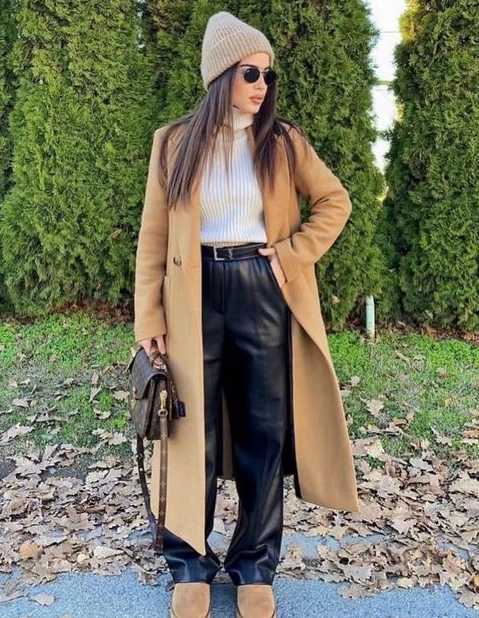 As you revamp your fall wardrobe, your leather pants outfit becomes even more versatile. Even when layering, you can always create a streamlined silhouette with an endless number of pairs to go with your pants. You'll look terrific wearing a trench coat on top of your leather sweater and slacks ensemble. You must make sure that the inner jumper is a thinner one that won't add unwanted bulk to attain this look.
Pair With Corset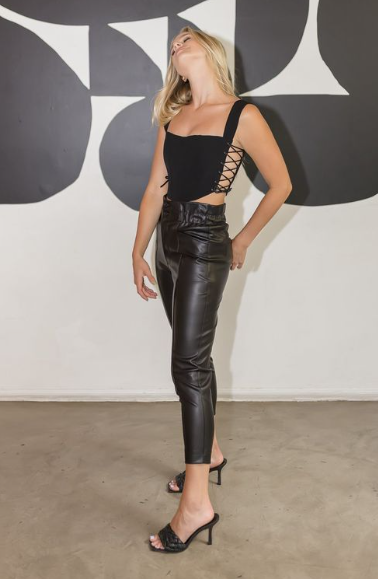 If you're going for a sleek and sexy vibe, a corset is a great top to pair with leather pants. This is the best leather pants outfit. An elegant, structured top and classy, sleek bottoms make this outfit perfect for making a statement. Moreover, this look can be transformed into something more sophisticated with a stylish blazer worn over the corset. It is possible to make an outfit look dressier with strapped heels that elongate your legs.
To add some contrast to the outfit, layer with a cropped denim jacket for a more edgy look. Keep the look stylish and comfortable by wearing ankle boots or sneakers.
Camel Slim-Fit Leather Pants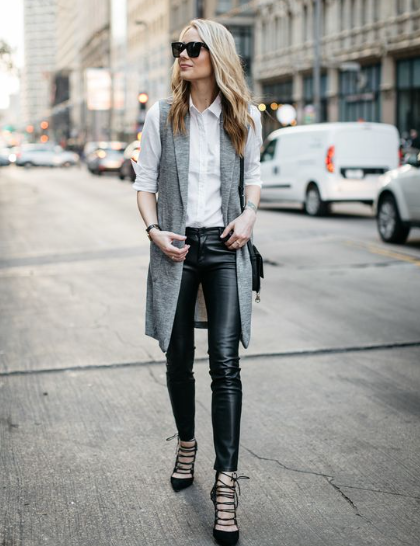 Our ensemble consists of a leather pants outfit, with a white shirt, and a knit vest for a polished appearance. It's hard to miss the harmonious blend of colors between the pants and vest. When paired with a monochrome shirt and pants, a patterned knitted vest complements the outfit perfectly.
Stylish glasses and a smooth leather handbag complete a professional look. For a touch of sophistication, add neutral-colored pumps to your outfit.
Black And White Combo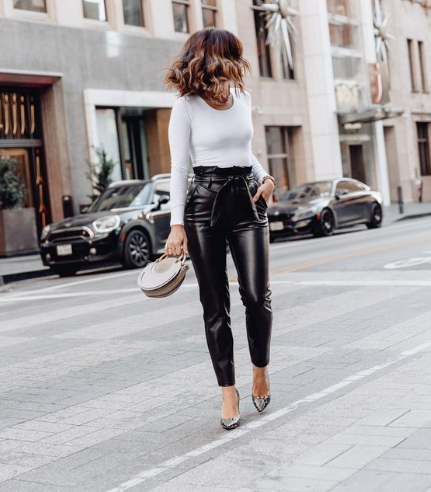 There is nothing more classic than black and white together. Regardless of fashion trends, black or white looks will always match them perfectly. A plain white shirt will look great with your black leather pants when you are unsure of what to wear with them.
Black leather jeans, orange stiletto heels, and a white t-shirt worn over the leather pants are the greatest combinations to make an outfit stand out. For the ultimate look, add a mesh patterned coat in black and white.
How to Style Leather Leggings with Shoes?
Finding shoes that go with leather leggings is not as difficult as you may imagine. Choosing the appropriate shoes for your attire begins with deciding what event you'll be attending. You can look fashionable while sporting trainers for a more laid-back, midday appearance. When heading out, you can get a simple, pleasing style by donning subtle suede heels.
Tips for Wearing Leather Pants in Fashion
Instead of wearing all-black, provide some contrast by wearing tops with muted rather than vibrant colors.
Wearing leather pants on a hot summer day is not advised.
You might pair a denim jacket with leather pants.
Try to wear a casual shirt with your pants, but stay away from too-casual items like graphic tees.
For a more complete look, it is preferable to add a layer of jacket or blazer over leather pants.
Leather jackets shouldn't be worn with leather pants. Items made of double leather just don't work.
UP NEXT: Best 7 Black Skinny Jeans To Shop Right Now
Conclusion
Try wearing leather pants with a blazer, heeled shoes, and a silk top for a dressier appearance. There is a leather pants suit for you, no matter what your style is. These leather pants outfits will look incredibly stylish while not making you appear overly effortful. Therefore, go out and buy a pair of leather pants for yourself so you may start to appreciate fashion in style!