Denim is a very adaptable and stylish fabric. Consider all the trendy denim clothing options, including a denim jacket, denim shorts, denim skirts, and jeans. But can you picture covering your shoes with fabric?
In today's article, we'll discuss denim thigh-high boots, which are trendy and distinctive. Styling them could appear challenging at first, but it's a lot simpler if you have a nice model to work from. That's why we have gathered some of the greatest outfit ideas for you that feature denim and thigh-high boots. Let's dive in!
Denim Boots and Fashion Trends
Denim boots are a staple of many women's closets and for a good reason. They are incredibly versatile and can be paired with so many different outfits. However, sometimes it is difficult to find the right denim boot for your needs.
So many denim boots are available these days, including ankle boots, wedge heels, knee-high boots, and even thigh-high boots. Some have details like studs or buckles, while others have lace-up details on one side or both sides of the boot shafts. Some even have perforations running down the front for added style points!
Some Chic Styles
A pair of denim boots can be styled in many different ways depending on how you want to wear them or where you will wear them too. Below are some ideas on how to style your denim boots:
Casual Chic Style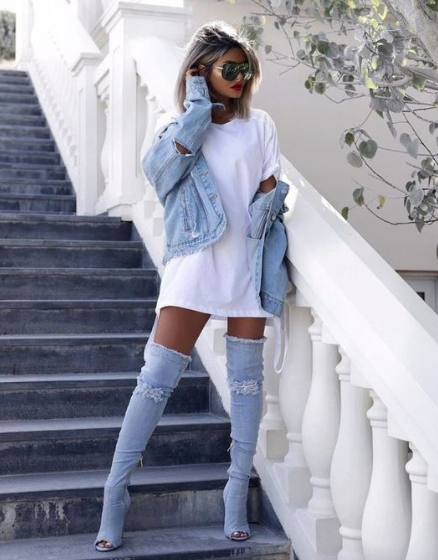 Denim is the ultimate casual fall shoe, so we've created this look to show you how easy it is to wear denim boots with everyday outfits. The key here is dressing down the rest of your outfit so that the boots can stand out without seeming overdone. The best way to do this is by keeping everything else simple — think laid-back T-shirts, sweaters, and denim jackets for women and men alike!
Boho Chic Style
For a boho chic look, pair your denim boots with distressed boyfriend jeans, a flowy peasant top, and a long chunky necklace or statement earrings. Finish off your outfit with a cowboy hat and an oversized scarf for extra warmth during those cold winter months ahead!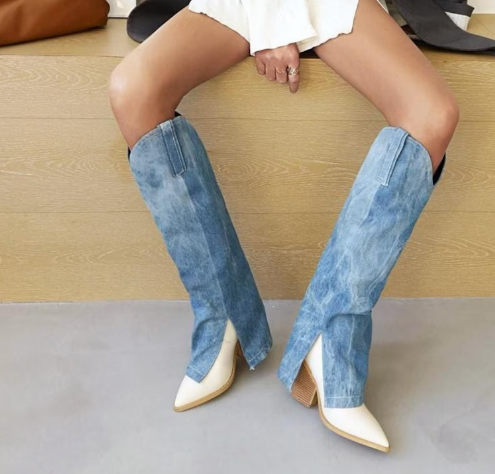 Shop Denim Boots
Edgy Chic Style
This style is perfect if you want to look edgy and chic simultaneously! The best way to achieve this look is by pairing your jeans with dark-colored ripped jeans or leather pants with denim boots. You can also wear a leather jacket and tuck it in at the waist so it doesn't look bulky while wearing long tops like shirts or dresses. Try pairing these outfits with a bowler hat or fedora hat if you want an extra pop of color!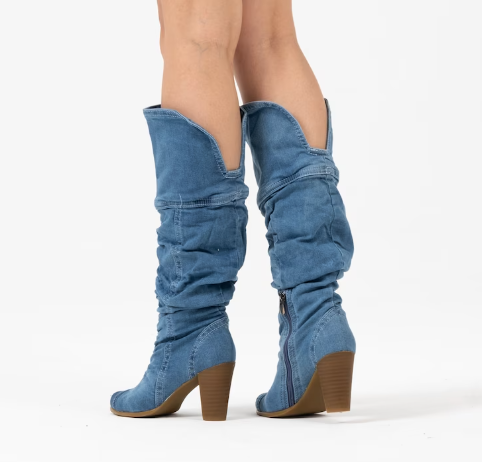 Shop Now
Dressing For The Occasion
Here are some of the occasions to wear denim boots:
Work:
If you're working from home this summer or just need something comfortable for your commute, consider wearing denim booties with an oversized sweater and cropped pants. Or pair ankle boots with a pencil skirt for an elegant look at the office!
Concert or Festival:
Denim is always appropriate at concerts and festivals because it's cool enough for warmer temperatures but still looks great all day! To make sure your outfit stands out even more in the crowd, try pairing distressed denim jeans with a graphic tee or a flannel shirt over the top!
Date Night:
You can't go wrong with an oversized t-shirt, skinny jeans, and denim boots! Add a statement necklace or earrings, or wear your hair in a messy bun with some bobby pins, and you're ready to go!
Brunch or Daytime Outing:
If you're heading out for brunch or an afternoon coffee date with friends, pair your denim boot with an oversized sweater and distressed jeans. Throw on a chunky knit beanie and some comfy sneakers or flats to keep things cozy and comfortable.
Night Out With Friends:
For a night out with friends or on a date, it's important to choose an outfit that will flatter your body type rather than hide it. Denim boots can help you look taller when paired with high heels (or wedges), so they're perfect for this kind of event!
READ MORE: Best Party Boots For New Winter Essential
Conclusion
Denim boots are a significant fashion investment for fall and winter. Whether you want to look trendy or just keep your feet warm, these boots are a worthwhile purchase. So what are you waiting for? Make your plans now, and you can enjoy styling your boots when the weather turns chilly.