Vitamin C serum is one of the most recommended products by dermatologists and beauty editors, regardless of age or skin condition, when it comes to products that everyone should have in their regimen. The chemical not only promotes clear skin and diminishes post-inflammatory hyperpigmentation, but it also protects the skin from free radical damage, which can result in aging signs.
The Super C Serum is the most well-known item sold under the Vibriance brand, which markets itself with the tagline "Where Science Meets Skincare." The producer of this serum provides the following description of it: "an all-in-one hydrating serum that targets age spots, wrinkles, and more."
Vibriance Super C Serum Overview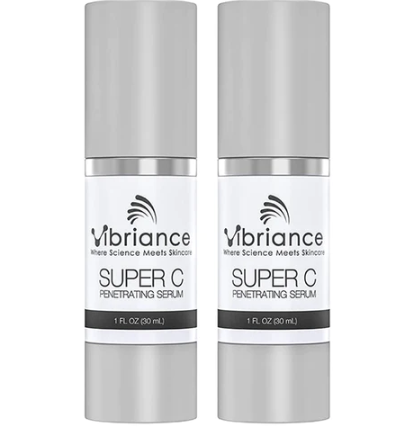 Shop Now
Vibriance Super C Serum is an anti-aging serum that can help remove age spots and smooth out wrinkles on your skin. In addition, this product can lift and firm your skin while also making it more supple. It has components that can impart a profound sense of hydration to the skin. It is touted as a multi-purpose serum that combines the benefits of various products.
On the product page for the vitamin C extract that Vibriance sells, the company states that "our unique vitamin C extract is shown in studies to produce far better results than standard vitamin C."
The Super C Penetrating Serum fulfills several functions. It is both a serum and a moisturizer, and the manufacturer claims that it can fight wrinkles, remove age spots, hydrate, even out skin tone, and soften skin. The serum can be used around the eyes in addition to lifting and firming the skin.
Vibriance Super C Serum: Ingredients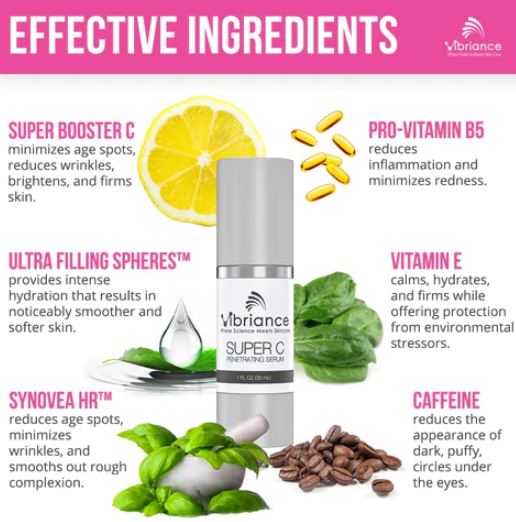 Although the Super C Serum is touted as a vitamin C serum, it also contains vitamin B5, vitamin E, and caffeine.
The first significant component is 3-O ethyl ascorbic acid, a more stable form of vitamin C. It can perform the same tasks as vitamin C, such as brightening, fading spots, and lowering age indications, but it is less prone to oxidation. This indicates that it will have a longer shelf life after opening and will not need to be refrigerated.
It also possesses moisturizing and therapeutic effects from vitamin E, as well as pro-vitamin B5, which can soothe inflamed skin and boost its ability to retain moisture. Another important component is caffeine. Because of its potential to boost and resist free radicals, it is commonly employed in anti-aging treatments.
How Does Vibriance Super C Serum Work?
Vibriance Super C penetrating serum contains ingredients with significant anti-antioxidant properties, which the manufacturer claims make it an effective anti-aging remedy.
Studies and studies on the effects of antioxidants such as Vitamin C on skin support appear to corroborate the serum's claims, and this component aids in minimizing age-related skin damage.
This serum also contains hyaluronic acid, which actively treats dehydrated skin and thus serves to reduce the appearance of under-eye wrinkles. The additional constituents in Vibriance cream work in concert to eliminate dark spots, reduce under-eye puffiness and regulate inflammation.
Vibirance Super C Serum Review
According to Vibriance Super C reviews, the majority of people like this anti-aging lotion. People have said that it has a nice texture and feels great on the skin.
"This is the product I've been looking for the entire time," one customer wrote. I've noticed that after I started taking Vibriance Super C a few months ago, I look much younger than I did when I was in my forties."
If you find that these evaluations of Vibriance Super C strike a chord with you, you should consider trying the serum yourself.
How To Use Vibriance Super C Serum?
In the beginning, you need to make sure that your epidermis is properly prepared. You may do this by washing your face and then patting it dry with a fresh towel. The tips of your fingers should be used to apply a generous amount of the Vibriance Super C serum target to the regions of your face and neck that need it the most.
UP NEXT: Top 5 Best Face Cleansers That Actually Work For Dry Skin
Conclusion
Because of its growing popularity, dismissing Vibriance Super C penetrating serum reviews and, more broadly, this serum's usefulness as an anti-aging remedy is tough. Individuals can also check their reviews on sites, which allows consumers to file complaints. Products that make comparable promises but have little to no effect perform poorly on the market.