Mother's Day is that special time of the year when we honor and celebrate the incredible women who raised us, nurtured us, and made countless sacrifices for our well-being.
However, finding the perfect gift to express our immense gratitude can be daunting, especially when working within a budget. But fear not because showing love and appreciation doesn't have to come with a hefty price tag.
Mother's Day Gift Ideas That Won't Break the Bank
In this article, we have curated a list of amazing, budget-friendly and DIY Mother's Day gift ideas to warm her heart and make her day unforgettable. So, let's dive in and uncover the hidden gems that will make this Mother's Day the most memorable one yet!
Personalized Gifts
Custom Photo Album
Collect cherished memories and photographs from years and compile them into a beautiful custom photo album. This thoughtful gift will provide a heartwarming trip down memory lane for your mother to treasure forever.
DIY Memory Jar
Create a meaningful keepsake by filling a decorative jar with handwritten notes, small trinkets, or other sentimental items representing special moments in your relationship. This unique gift idea constantly reminds you of your love and appreciation.
Personalized Recipe Book
Gather your mom's favorite recipes and some new ones she might enjoy and compile them into a personalized recipe book. Add personal touches, such as handwritten notes or family photos, for an extra-special touch.
Pampering and Relaxation
Homemade Spa Kit
Treat your mom to a rejuvenating spa experience at home by creating a DIY spa kit. Fill a basket with homemade sugar scrubs, face masks, and bath salts for a truly relaxing and indulgent gift.
Aromatherapy Diffuser And Essential Oils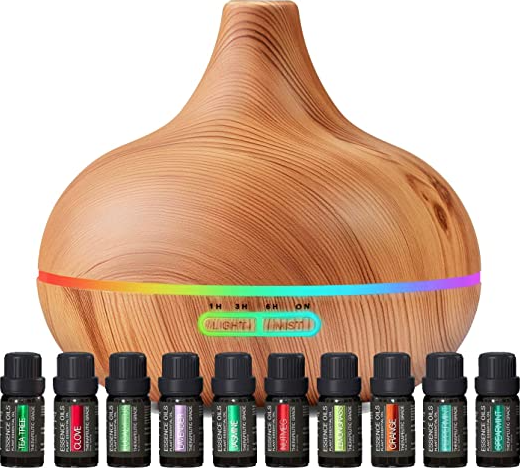 Shop Now
Help your mom unwind and create a soothing atmosphere with an aromatherapy diffuser and a selection of calming essential oils. This gift promotes relaxation and adds a touch of elegance to any room.
DIY Bath Bombs Or Bath Salts
Show your mom some love by creating bath bombs or salts infused with her favorite scents. This thoughtful and pampering gift is perfect for helping her unwind after a long day.
Experience-based Gifts
Movie Night At Home
Transform your living room into a cozy movie theatre and host a Mother's Day marathon featuring her favorite films. Add some homemade popcorn and snacks for an enjoyable and budget-friendly evening.
Cooking A Special Meal Together
Bond with your mom over a delicious homemade meal. Choose a recipe she loves or try something new, and spend quality time together creating a memorable culinary experience.
Local Day Trip Or Nature Hike
Explore your local area and plan a day trip or nature hike to a nearby park or attraction. This gift idea allows for creating new memories while enjoying the great outdoors.
Subscription Services
Magazine Or Book Subscriptions
If your mom loves to read, gift her a subscription to her favorite magazine or a book club that delivers new titles each month. This gift keeps giving and provides her with a constant source of entertainment. check out Book of the Month as they are a great option for book subscription.
Monthly Tea Or Coffee Sampler
Treat your mom to a monthly delivery of her favorite beverage with a tea or coffee subscription service. She'll enjoy trying new flavors and blends, and it's a gift she can savor all year. Try umami tea if you are looking for tea sampler.
Streaming Service Subscription
Give the gift of endless entertainment by signing your mom up for a streaming service subscription. Whenever possible, she'll enjoy accessing her favorite movies, TV shows, and documentaries. Check out Netflix, Prime Video, Hulu and Spotify as they are some of the well-known services.
Handcrafted Items
Knitted Or Crocheted Accessories
If you have a talent for knitting or crocheting, create a cozy scarf, hat, or pair of gloves for your mom. She'll appreciate the time and effort you put into making a unique, one-of-a-kind gift.
Handmade Candles Or Soaps
Craft beautiful, fragrant candles or soaps for your mom at home. Customize them with her favorite scents and colors for a truly personal touch.
DIY Home Decor Projects
Create a custom piece of home decors, such as a painted canvas or a framed family photo collage that your mom can proudly display in her home. This thoughtful gesture will remind her of your love every day.
Time and Assistance
Offering To Help With Chores Or Errands
Giving the gift of your time can be invaluable. Offer to help your mom with household chores, errands, or other tasks she might need assistance with.
Creating A Personalized Coupon Booklet
Design a booklet filled with coupons for various acts of service, such as a homemade dinner, a car wash, or a day of gardening. This creative gift allows your mom to redeem these thoughtful gestures throughout the year.
UP NEXT: Unique Mother's Day Gifts For The Mom Who Loves To Travel
Conclusion
Finding the perfect Mother's Day gift doesn't have to be a financial burden. With these budget-friendly and thoughtful Mother's Day Gift ideas, you can create a memorable and heartwarming experience for your mom, showing her how much she is loved and appreciated on her special day.