Hybrid lashes are a combination of classic lashes and volume lashes, resulting in a more natural yet fuller look.
However, in order to keep them looking their best, hybrid lashes require a certain amount of care and maintenance, just like any other form of beauty treatment. The following is a list of things you should and should not do in order to properly care for your hybrid lashes, but first, let's go over exactly what hybrid lashes are.
What is Hybrid Lashes?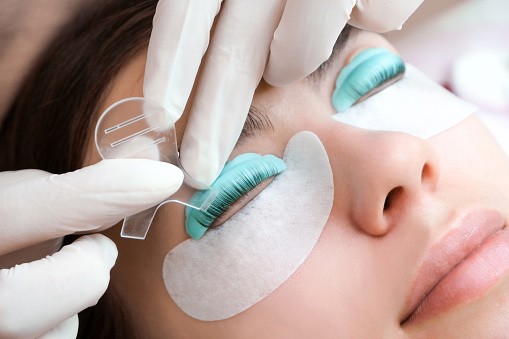 Hybrid lashes refer to a type of eyelash extensions that combine two different techniques: classic and volume lashes. Classic lash extensions involve attaching a single extension to each natural lash, while volume lashes involve attaching multiple ultra-fine extensions to each natural lash.
Hybrid lashes, therefore, involve a combination of both techniques, where the lash artist applies a mix of classic and volume lashes to create a fuller, more textured look. This technique is ideal for clients who want a more dramatic look than what classic lashes can offer but don't want the full-on effect of volume lashes.
The hybrid lash application involves attaching the classic extensions to the natural lashes at the base, then adding volume lashes to the outer corners and middle of the lash line to create volume and texture. The result is a beautiful, natural-looking set of lashes that are fuller and more dramatic than classic lashes but less dramatic than volume lashes.
How to Care for Hybrid Lashes?
Do:
Brush your lashes daily: Use a spoolie or a clean mascara wand to gently brush through your lashes. This will help keep them looking neat and prevent them from becoming tangled.
Clean your lashes regularly: Use a gentle cleanser specifically designed for eyelash extensions to remove any dirt, oil, or makeup from your lashes. Make sure to avoid using oil-based products or harsh cleansers, as these can weaken the adhesive and cause your lashes to fall out more quickly.
Be gentle when removing eye makeup: When removing eye makeup, use a gentle, oil-free makeup remover and a soft cotton pad. Avoid rubbing or pulling at your lashes, as this can cause them to fall out.
Sleep on your back: Try to avoid sleeping on your stomach or side, as this can cause your lashes to become bent or twisted.
Schedule regular touch-ups: As your natural lashes shed, your hybrid lashes will fall out with them. To maintain the fullness of your lashes, schedule regular touch-up appointments with your lash technician.
Don't:
Rub or pull at your lashes: Avoid rubbing your eyes or pulling at your lashes, as this can cause them to fall out prematurely.
Use oil-based products: Oil-based products can weaken the adhesive and cause your lashes to fall out more quickly. Avoid using oil-based makeup, face cleansers, or moisturizers near your eyes.
Expose your lashes to steam or heat: Steam and heat can cause your lashes to lose their shape and fall out more quickly. Avoid exposing your lashes to steam from hot showers or saunas, and don't use a hair dryer or curling iron near your eyes.
Use mascara: While it may be tempting to use mascara to make your lashes look even fuller, it's not recommended for hybrid lashes. Mascara can cause your lashes to clump together and may weaken the adhesive.
By following these dos and don'ts, you can help ensure that your hybrid lashes stay looking their best for as long as possible. With proper care, your lashes can last for several weeks before needing a touch-up.
Conclusion
In conclusion, hybrid lashes can provide a natural yet fuller look to your lashes. They require some care and maintenance to keep them looking their best, including brushing and cleaning them regularly, avoiding oil-based products and harsh cleansers, and scheduling regular touch-up appointments. With proper care, you can enjoy the fullness and beauty of your hybrid lashes for several weeks.