Butterfly tattoos are a famous tattoo design for good reason. Butterfly wings are considered to be lovely, delicate aspects of nature that look excellent when coupled with the body's natural structure, regardless of placement. Furthermore, these designs are easily customizable, allowing you to create a genuinely one-of-a-kind piece of ink. If you choose to emphasize the creatures' inherent meanings, butterflies are said to represent everything from freedom and metamorphosis to delicate beauty.
8 Butterfly Hand Tattoo Inspo For Tattoo Lovers
Whatever your motivation for obtaining a butterfly tattoo, the most important thing is to know exactly what you want. If you're still looking for the right design, scroll down for some amazing butterfly hand tattoo ideas.
Realistic Butterfly Tattoo
The realistic hand tattoo butterfly draws attention to critical features in the tattoo. In Christianity, a butterfly is a sign of personal transformation. In Chinese culture, it represents mysticism, yet in Japanese culture, it can represent departed souls. The butterfly is especially prominent in Hindu mythology, where it is commonly associated with rebirth and marriage. This little butterfly tattoo was created by the artist using ink pen drawing techniques. The exquisite details bring this tortoiseshell butterfly to life. This realistic butterfly tattoo is one of the best designs available if you are inspired by this gorgeous insect and want one tattooed on your skin.
Traditional Butterfly Tattoo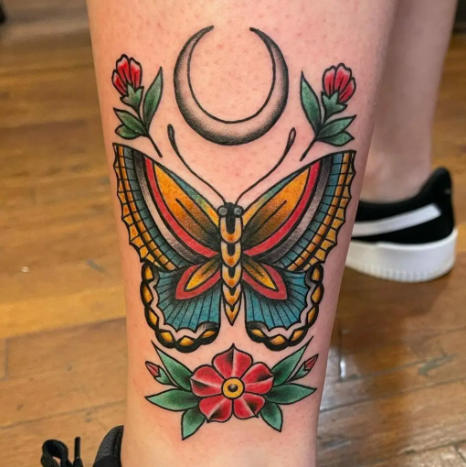 If you like the classics, these old-school conventional butterfly tattoos are a great choice for you. Metamorphosis is the most common butterfly tattoo meaning. It also represents grace, beauty, and spirituality. The design is created by the artist using aggressive black inking patterns and traditional colored ink. Because both the moon and the butterfly are known to alter different stages of life, the flowers and crescent moon above the butterfly can represent feminity and transition. This tattoo is best placed on the arm. It is also possible to get it on your shoulder, wrist, or behind your leg. If you want to pay homage to the historical style of tattooing, go for this traditional butterfly tattoo.
Minimal Butterfly Tattoo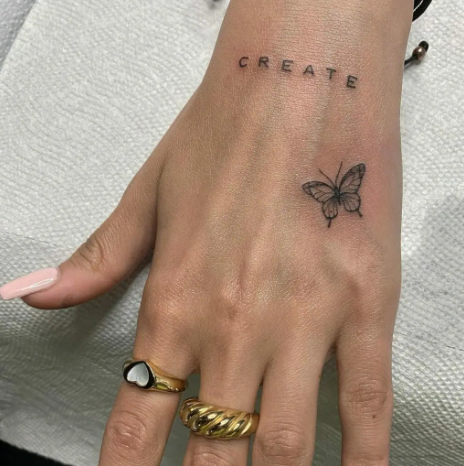 Do you want a tiny black and white butterfly tattooed on your hand? This minimalistic theme will undoubtedly inspire you. The word "create" imprinted on the skin is an excellent way to express your enthusiasm for creativity and innovation. Alternately, you can use a different word and personalize the motif by replacing it with anything that exemplifies your unique qualities. These beautiful insects are thought to represent liberation, transition, spirituality, and feminity. So, if you're looking for a simple butterfly motif using only one ink, this is the inspiration you've been looking for.
Modern Half-Butterfly Tattoo
One of the trendy butterfly tattoo designs, this one features a contemporary interpretation of the meaning behind the butterfly. Depending on a person's point of view, a butterfly can signify a variety of things, including a rebirth, a beautiful new beginning, or even good luck. This tattoo is stunning wherever it is placed on the body, but the arm or shoulder is the ideal location for maximum impact.
Add-On Butterfly Tattoo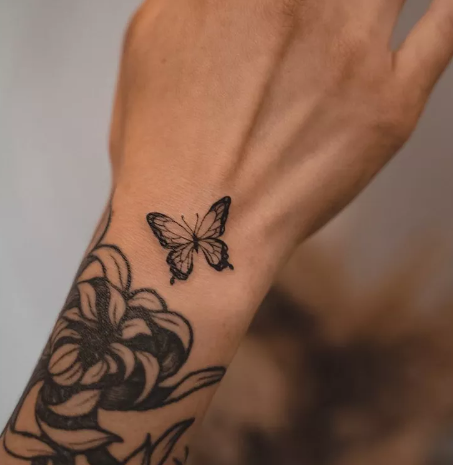 Butterfly tattoos are fantastic additions to existing tattoos since they can be any size without losing their beautiful detail. If you already have ink and are tasked with filling an empty spot, why not choose a design that depicts a butterfly?
Pastel Butterfly Tattoo
Try out a variety of tattoo techniques with your butterfly design, such as this one. This tattoo features pastel colors and a method that makes it appear as though the wings are actually overlapping. Whether you want to get this tattoo with a few extra additions or just by itself, it will look absolutely incredible any way; it all depends on your preferences.
Natural Butterfly Tattoo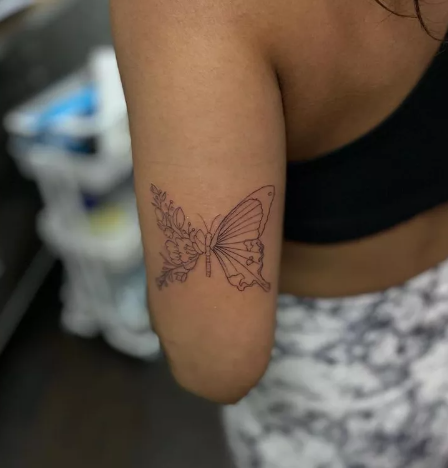 Instead of using a single butterfly, why not mix it with another natural element? The butterfly is blended with blossoms in this tattoo, giving it a delicately forceful vitality. It is not always necessary to have numerous colors in an area. For example, this gorgeous black and white butterfly tattoo is distinct because it has wings on one side. The second half, on the other hand, is packed with blooms that form the wing shape. The design difference seems remarkable anyplace on your body, but for greatest impact, have it done on your arm, calf, or shoulder.
Magical Butterfly Tattoo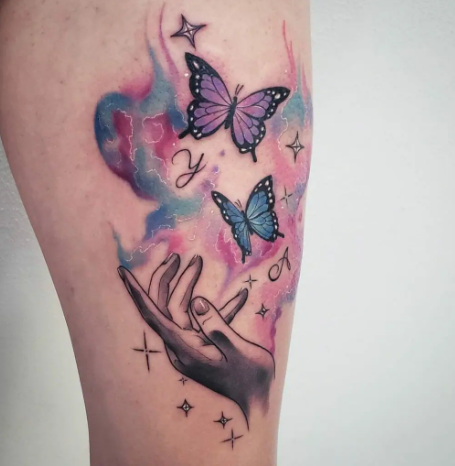 Do you want a butterfly tattoo in watercolor style? This wonderful design is unique. This piece of art was created by the artist using several hues of colored ink. The watercolor background evokes mystique and enchantment. As a butterfly tattoo is also considered to symbolise rebirth or even the souls of the departed individuals, the letter initials utilized might be an ode to the remembrance of your loved ones. A blue butterfly represents luck, but a purple butterfly represents resilience and fortitude. Although it is recommended that you get this tattoo on your arm, it can also be done on your wrist, shoulder, chest, or behind your palm. If you desire a bright design that represents beauty, luck, magic, or rebirth, this color ink tatt is a unique option for you.
Final Thoughts
Butterflies are creatures that can mostly please almost everyone, and by scrolling the above ideas and inspirations for butterfly hand tattoos you can clearly understand why. Whether you want a minimal to almost not-existing butterfly hand tattoo or you are a bold personality that want a colorful and magical design that you can flaunt anywhere you go, we got you covered.