Now that summer has arrived, we are compelled to update our clothes. Don't worry though; we can manage our money this season. The season's cutest and most reasonably priced apparel, footwear, and accessories are available on Amazon. To save you time, we have selected the top selections from hundreds of product pages. Scroll, then add to the cart.
Warm-weather necessities may be found on our list of the top 9 Amazon summer fashion bargains of 2023 for less than $40. Your summer shopping needs can be satisfied without breaking the budget.
Best Amazon's Summer Fashion Finds Under $40
Following is a complete list of Amazon's summer fashion finds for $40:
LOLA GIGI Woven Bag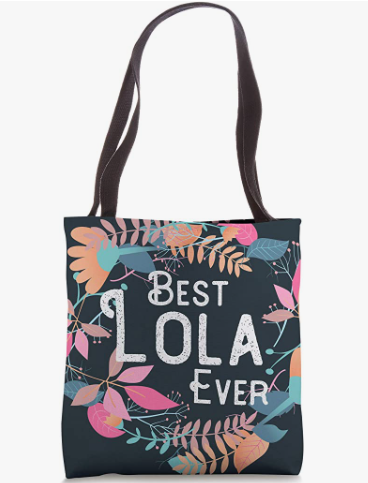 Shop Now
A woven tote or crocheted purse like this one from LOLA GIGI is perfect for summer. The vintage-patterned Y2K purse is a beautiful summer accessory. The woven shoulder tote will be your summer essential for farmer's market visits, picnics, weekend excursions, and holidays. Green, purple, orange-yellow, brown, black, and beige are among the many colors available.
Cupshe Crochet dress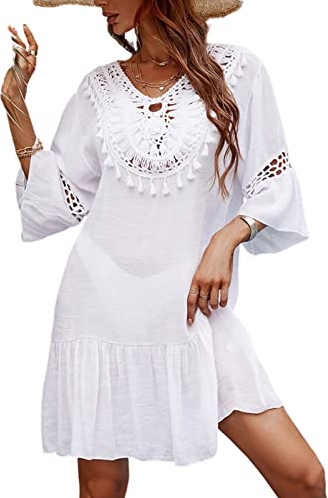 Shop Now
In Amazon's summer fashion, this is one of the best options to choose from. For the next warm weather seasons, you will undoubtedly also require a cover-up, and this Cupshe crochet dress is a great option. The short-sleeve mini, which comes in five colors, has henley-style buttons on the front and a tight waist to give you shape. Additionally, it is a little transparent, allowing your swimwear to show below. This knit dress is probably going to become a staple in your summer collection.
Romwe dress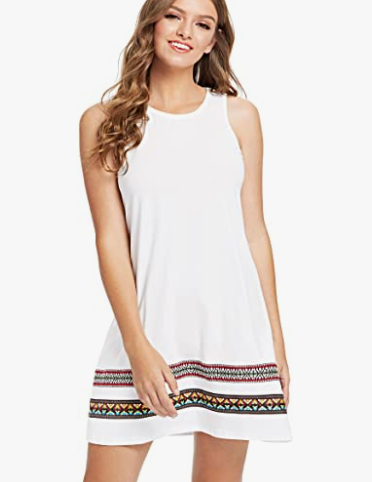 Shop Now
Do you prefer something that is more form-fitting from Amazon's summer fashion? This T-shirt dress is given a fresh new look by Romwe with the addition of a ruched tie knot at the front of the dress. It comes in a total of 23 colors, and many of them are fresh and vibrant, perfect for the spring and summer seasons. These colors range from lavender and mint green to hot pink and royal blue.
Baleaf sweat shorts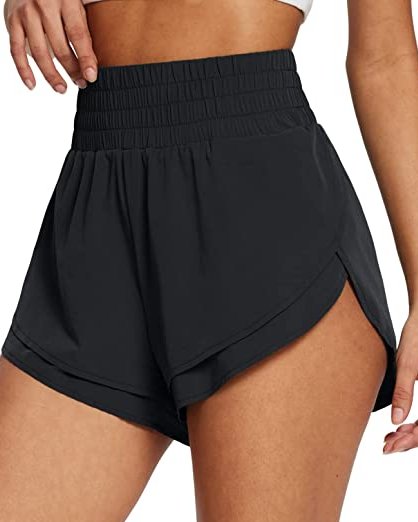 Shop Now
These $21 Baleaf sweat shorts are about to become your closest buddy, whether you're hitting the gym or just hanging out at home. They have an elastic waistband with an adjustable drawstring and practical side pockets and are constructed from a breathable and moisture-wicking blend of cotton and spandex.Sizing ranges from XS to XXL are available in four colors.
Automet's matching sets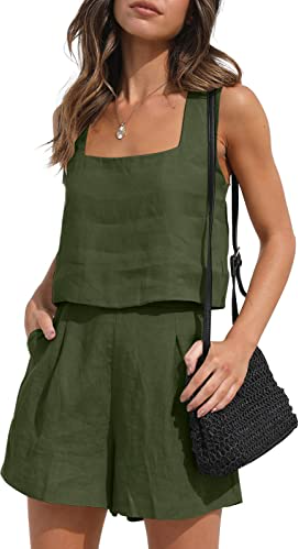 Shop Now
Automet's matching sets offer breathable, lightweight linen. This stylish linen two-piece is perfect for a beach day, picnic, or Sunday brunch. Wedge, sandals, or tennis shoes go with the high-waisted shorts with pockets and a square neckline. Choose from 17 colors in sizes small to extra-large. The top and shorts can be worn independently, making them adaptable for summer.
Ruffled dress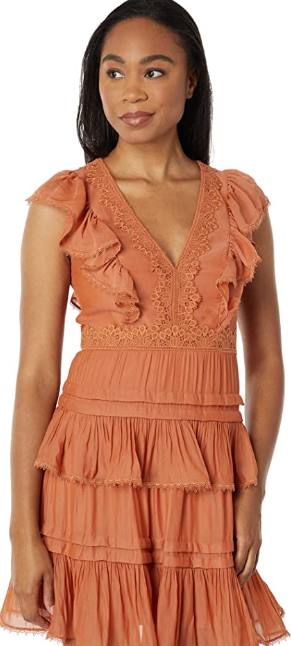 Shop Now
The relaxed silhouette of this dress is one of our favorite aspects about it, and we believe that it would look fantastic both during the warmer days of spring and during the nights that are a little bit chillier in the summer. In addition to that, you can have it in two other gorgeous colors—basic black and cherry red—both of which are offered.
Simplicity UPF 50+ Wide Brim Roll-Up Hat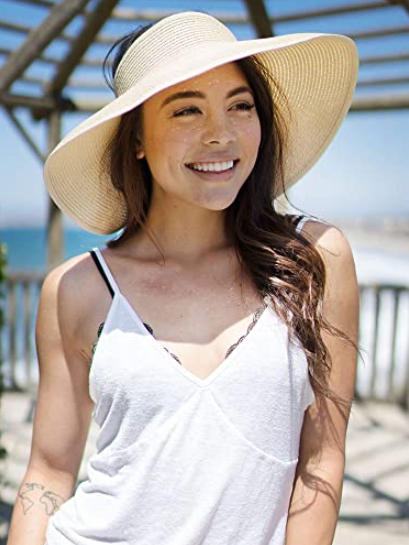 Shop Now
The utmost necessary item at the beach is now made even more necessary by the addition of UPF 50+ protection. It is easy to roll up and pack away, and it is just as easy to put on without any creasing. For this reason, it is Amazon's summer fashion sun hat, and there is a good reason for this.
Comfy Jumpsuit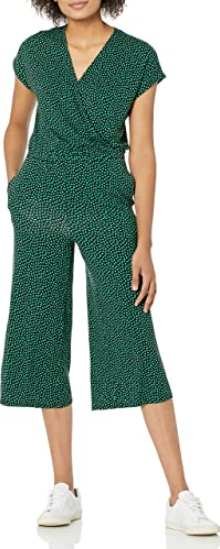 Shop Now
A black tie with a bow is worn around the waist. It's adorable. This jumpsuit is one you won't want to take off. We may dress it up for a date night by adding heels and a cute purse after wearing it to a meeting or school event. It's so adorable. It is not at all lightweight and is made of thick cotton. It has a lovely fall to it and is opaque. There are seven different colors for the jumpsuit.
MSBasic Floral Print V-Neck Dress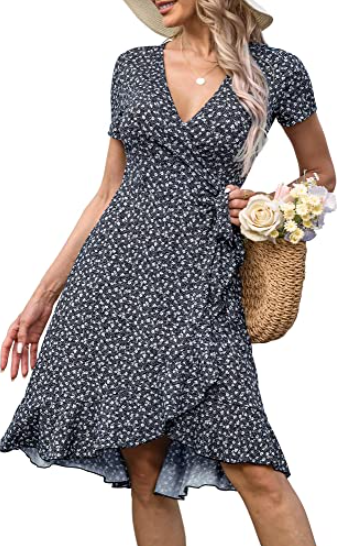 Shop Now
Nothing is truly simpler or more attractive than this easy V-neck dress, which comes in a variety of neutral hues and eye-catching patterns. The fabric is silky, the length is perfect, and you don't need to worry about wearing any particular undergarments because the style highlights all the correct areas. What more could you want than a simple, breezy spring dress that you could dress up with stylish sandals or down with sneakers and a denim jacket?
Nemidor Plus-Size Spaghetti Strap Dress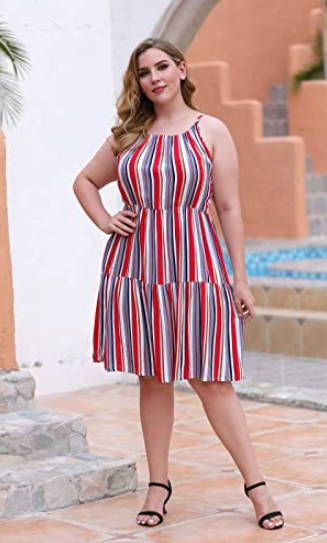 Shop Now
Just take a look at the Nemidor Plus-Size Spaghetti Strap Dress to see one example of the many lovely dresses that are available with pockets. The tiered and airy dress is designed to fall to just above the knee and is offered in both floral and striped patterns. Customers have referred to it as the "perfect summer dress" because of its "gorgeous print" and "lightweight fabric."
Mtzyoa Slide Sandals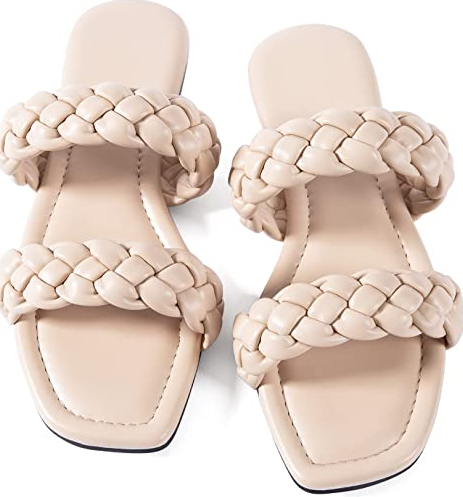 Shop Now
It's been decided: during the summer, we won't be wearing flip-flops. The current trend is sliding, and this particular pair strikes the ideal balance between ease of wear and chic appearance. You can wear them with almost anything, from jeans to dresses, and because they come in several hues, it won't be difficult to find a place for them in your closet.
UP NEXT: Best-Selling Amazon Fall Basics Under $35
Bottom Lines
Amazon fashion showcases accessibility and inclusivity. Fashion is no longer for the elite. Amazon's $40 Summer Fashion Finds urge us to buy products that reflect our style and are sustainable.
To ensure a good buy, be cautious, read reviews, and check to size. Embrace summer and find your new favorite Amazon's summer fashion items!