Vacations can be so much better and fun if you can bring along your furry friend. But sometimes it can get stressful when you travel with your dog as you need to bring along a lot of accessories and stuff for the needs of your furry friend. If you're a travel-loving dog owner then a travel bag specifically designed for your dog's gear will make your life a lot easier. While they're not only dog carriers, the best travel bag can hold basically anything your dog could need while you're on the road. In this guide we'll tell you what features you should lookout for as well as show you the best dog travel bags that are available currently in the market.
Best Dog Travel Bags to Shop Right Now
These great dog travel bags have plenty of room for your dog's leash, food, toys, blanket, and other essentials.
PetAmi Dog Travel Bag
This airline-approved travel tote is ideal for traveling with your furry best friend. It has 2 collapsible bowls and 2 food container bags, is made of durable, high-grade polyester, and fits under the seat in front of you.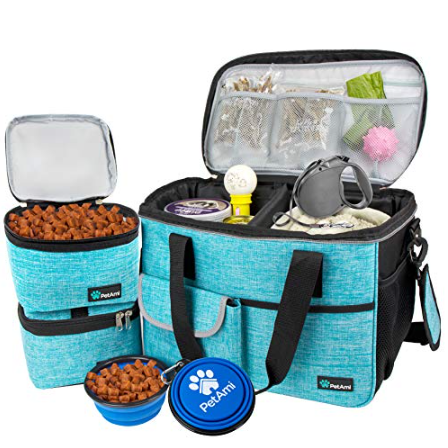 Shop Now
The large inner compartment can hold your pet's blanket, toys, and accessories, and with multiple pockets and an adjustable flap, it's a versatile carry bag designed for your pet's needs. The leakproof lining and UPVC backing make this bag easy to clean between uses.
Unique Dog Travel Bag
This dog travel bag has a built-in elevated bowl stand for small to medium-sized dogs and a unique name. This bag is great for hungry dogs because it has two food storage containers that can hold up to 20 cups of your dog's favorite food and adjustable bowls.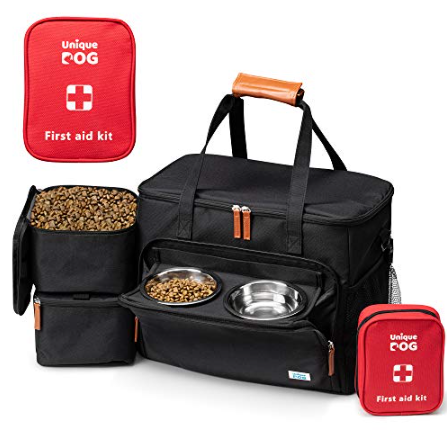 Shop Now
This bag can fit towels, blankets, toys, leashes, the two stainless steel bowls that come with it, and a dog first aid kid bag in its 23 liters of storage space. This bag for pampered dogs has a discreet design and a unique feeding platform.
PetAmi Dog Travel Backpack
This awesome doggy backpack lets you walk your dog while carrying all of their favorite things. This backpack can hold all your dog's favorite sweaters and other stuff for long weekends away.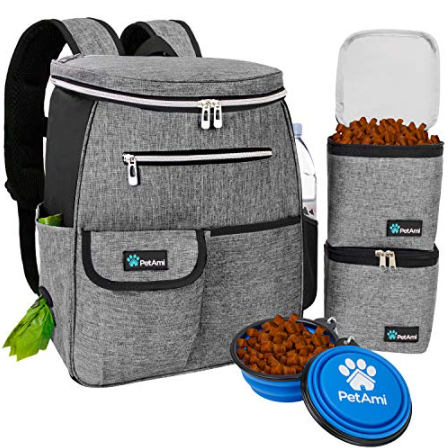 Shop Now
Its durable polyester construction and poop bag dispenser pocket make it a great everyday bag. The PVC backing makes it easy to clean, and the water-repellent design works in all weather. With 2 pet food containers and 2 collapsible bowls, you can feed, water, and play with your dog anywhere. The large main compartment holds treats, toys, and food.
Mobile Dog Gear Dog Travel Bag
Ballistic polyester makes this larger dog travel bag tear- and abrasion-resistant. With a large main storage pocket and side mesh and front zip pockets, you can carry your 4-legged friend's favorite things and your essentials. Two food carriers and two collapsible silicone bowls let your dog eat on the go.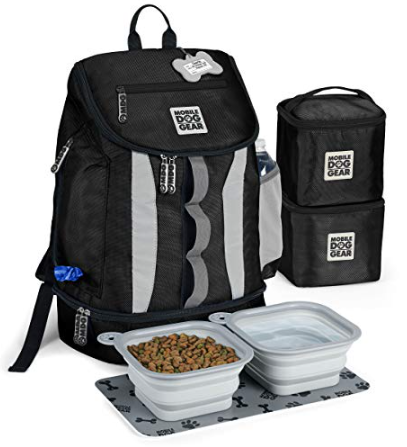 Shop Now
This backpack has a drop bottom for towels and blankets, a poop dispenser bag, elastic storage bands, and other handy spaces for your pet's favorite items. It's perfect for dogs who like to explore for longer.
Rubyloo The Original Dog Bag
This dog travel bag offers many ways to organize your dog's accessories with multiple pockets of various sizes. Traveling with 2 insulated dog food carriers and 2 pet silicone collapsible bowls will keep your pet fed. The main compartment can hold leashes, toys, blankets, towels, and more, and the small zippered pockets can hold your dog's most important items.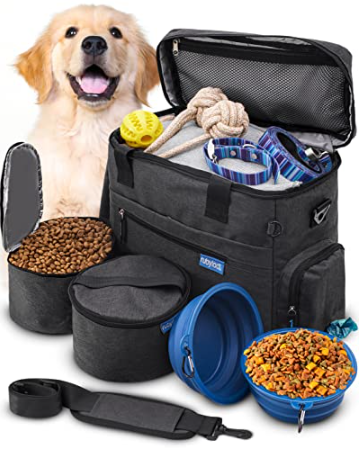 Shop Now
This water-resistant, easy-to-clean doggy day bag meets airline carry-on requirements and has an adjustable shoulder strap.
Modoker Airline-Approved Pet Travel Bag
This Modoker doggy travel bag gives your pet their own luggage space. Your dog can keep all of his or her favorite things close by, even when you're away, with plenty of room for leashes, blankets, towels, toys, and more.

Shop Now
This airline-compliant 16 x 11 x 8-inch bag fits under the seat in front of you. Your dog can eat easily with 2 dog feeding bowls, 2 food carriers, and a water-resistant placemat.
Ruff Dog Travel Bag for Supplies
Bringing your four-legged friend along on a long trip is a breeze with this comprehensive doggy travel pack. The main compartment is large enough to hold your dog's leash, blanket, treats, toys, and much more, and the exterior pockets are ideal for anything you might need on the go.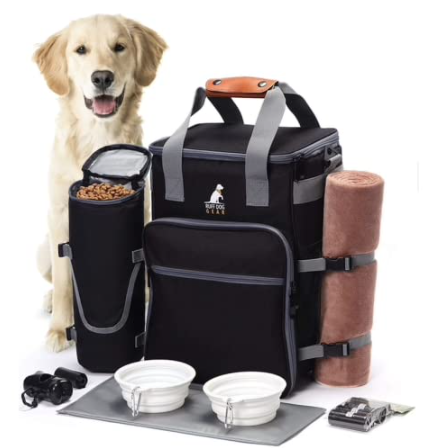 Shop Now
While you're gone, your dog won't go hungry thanks to the two collapsible bowls and food storage compartment that can hold up to 25 cups of food. This bag comes with a poop bag dispenser so that you can quickly dispose of waste.
UP NEXT: Five Best Ways to Keep Your Pet Secure In Any Weather
Final Thoughts
Get your four-legged pal a personal travel bag so you can carry all of their essentials in a single convenient spot. These backpacks and travel bags are made from sturdy materials and have been designed to accommodate your dog's food, treats, toys, blankets, leashes, and more while on the go. They also feature space-saving feeding bowls and dedicated storage for food and treats.